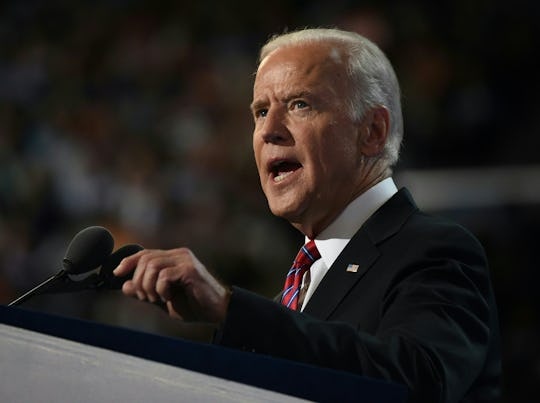 ROBYN BECK/AFP/Getty Images
Who Is The Couple Joe Biden Wed? This Photo Of Him Officiating Is Too Cute
Apparently Joe Biden can officiate your wedding — and if you're a White House staffer, he might even marry you at his house — all you have to do is ask. So who is the couple Biden wed yesterday? Brian Mosteller and Joe Mahshie met at the White House and asked the vice president to officiate over their wedding, which took place at Biden's home yesterday. And apparently it was the first wedding the VP ever officiated.
Mosteller is the White House' director of Oval Office operations, which, according to the White House website, means he's responsible for making sure President Obama gets to his speaking engagements, state visits and meetings. He's also always lurking in the Oval Office and, according to this profile by the Washington Post earlier this year, you don't get into the Oval Office without getting past him first.
And once you're in? Well, chances are Mostellar already knows everything about you — right down to your favorite drink if you're a head of state, and he'd already have a glass waiting for you when you arrive.
He started working at the White House under the Clinton Administration while he was still in college, traveling on behalf of the Clintons from 1998-2001. He has Olympic connections, too! He took a short break from politics during the Clinton and Obama administrations to organize not one, not two, but three Olympic games: the 2002 Winter Olympics in Salt Lake City, the 2004 Summer Olympics and the 2006 Winter Olympics.
He came back to the U.S. and worked on Obama's 2008 campaign, developing travel strategies that are still used today (it's no wonder Obama brought him to the White House when he was elected — Mosteller must be hella organized).
His return to the White House is how he met his now-husband; Mahshie is a trip planner for Michelle Obama (um — can I have that job, please?!) who got his start as an event coordinator for Times Square in New York City (arguably the only job more stressful than planning stuff for the president), according to his LinkedIn profile.
He began working as a staff assistant in the Visitor's Office of the White House in April of 2015 and was promoted to the First Lady's trip planner just five months later in August of 2015 — so he's celebrating his first anniversary at the White House and getting married. Awe!
And, if his Instagram is any indication, he can throw one heck of a party at his own house, too.
Interestingly enough, Biden isn't an ordained minister: when Mosteller and Mahshie asked him to officiate, he had to obtain a special, temporary certification from the District of Columbia in order to perform it. The wedding was kept small and only attended by the families of the grooms.
Biden has a long history of supporting marriage equality and some political commentators have suggested that it was at his urging that Obama became the first sitting president to openly support same-sex marriage back in 2012.
As expected, when Biden tweeted about marrying the two beloved staffers, Twitter went wild. Since this was a temporary certification, it doesn't look like Biden will be available to marry the rest of us once he's done being VP.
Not that Biden doesn't deserve some time off once his term as VP is over, but if he does want to have a side gig in his retirement, he could clearly make bank officiating weddings.