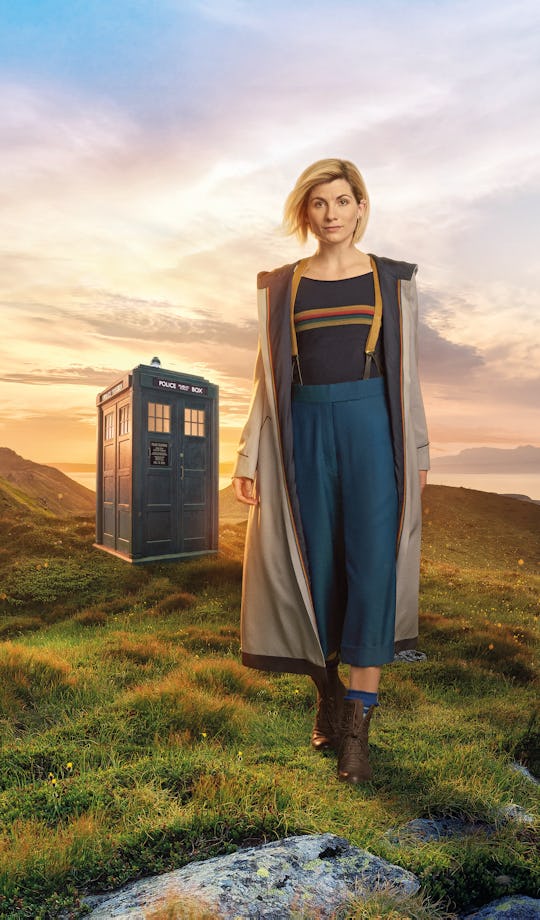 Steve Schofield / BBC Worldwide
'Doctor Who' Star Jodie Whittaker Will Take The Stage At San Diego Comic Con
An all-new season of Doctor Who is on its way and it's a very special season. For the first time ever, Doctor Who will be a woman. So who is the new Doctor on Doctor Who and what does this change mean for the future of the popular sci-fi series?
The 13th doctor will be played by Jodie Whittaker. You may recognize her from a number of TV series and mini-series like Marchlands, The Smoke, The Assets, Broadchurch, and Trust Me. In addition to a new Doctor, the new season is also under the control of a new showrunner, Chris Chibnall.
Although the new season isn't out for a little while, fans are excited about the new season. While a full trailer hasn't been released yet, a special teaser trailer aired during the 2018 World Cup final, which introduced the new Doctor and her companions. Even though the new season will be different from those in the past, it'll still have the quintessential things that make it Doctor Who. There will still be a Tardis and a sonic screwdriver. As for how this new Doctor will compare to past Doctors, Whittaker's costar Mandip Gill told Entertainment Weekly Whittaker's Doctor "has a similar energy to Matt Smith's Doctor."
Chibnall also told Entertainment Weekly, "She's incredibly lively, she's funny, she's warm, she's inclusive, she's energetic. She's the greatest friend you'd ever want to have as your guide around the universe." In addition, Whittaker said that this new season is "hopeful and fizzing with wonder."
Fans have been understandably curious about the new season ever since it was first announced that the next Doctor would (finally!) be a woman. Viewers got their first glimpse of Whittaker as the Doctor during last year's special Christmas episode, though it was a very brief look. Whittaker only said two words ("Aw, brilliant!") before the episode came to a close, not giving fans much to go on. However, fans are still quite excited for what this new season will bring.
Now that San Diego Comic Con is finally here, fans are hopeful they'll be even more answers about the new season. Whittaker will be making one of her first major public appearances at the event. Though a number of people were excited about the first female Doctor Who, many were incredibly outraged about the choice, so this will be the first time Whittaker will have a chance to address those critics head on. Many fans are also hopeful that a full trailer for the new season will drop sometime over the course of the con.
Whittaker will also be joined by two members of her new Tardis team: Mandip Gill, who plays Yasmin, and Tosin Cole, who plays Ryan. This will be Gill's first time at San Diego Comic Con. Chibnall and the show's executive producer, Matt Strevens, will also be there for the Doctor Who panel to discuss the new season. The panel is scheduled to take place on Thursday, July 19 at 11:45 a.m. PT so if you aren't lucky enough to actually attend the con in person, that's when you can expect news of the panel to hit the internet as well as a new trailer, if there is one.
There's obviously plenty to look forward to in terms of Doctor Who news, especially an official air date. Thus far, all fans know is the new season is dropping this fall but there's been no premiere date given yet and it's understandable that fans are ready to mark their calendars. Hopefully, this information will be announced during San Diego Comic Con as well. Fingers crossed!