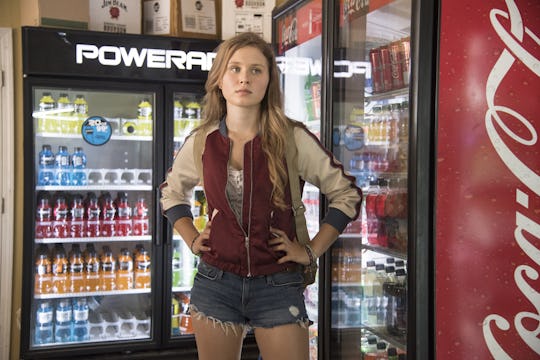 Anne Marie Fox/HBO
Eliza Scanlen Brings Amma Crellin To Life In 'Sharp Objects'
If you've already read Gillian Flynn's Sharp Objects, then you know Amma Crellin is a major character in the novel. If you haven't, then be prepared to take notice of her when the HBO adaptation premieres on July 8. The 13-year-old half-sister of Amy Adam's Camille, Amma is a two-sided troublemaker who has been shaped by the unhealthy home she grew up in. It would be a complicated role for any actress to tackle, so who plays Amma on Sharp Objects?
Amma will be played by Eliza Scanlen, a 19-year-old Australian actress who might be on the precipice of her big break thanks to Sharp Objects. It isn't her first role, but it is her most major one to date. Previously, she appeared in the shorts Grace and Lacuna, as well as one episode of Do You Mind? She also had a recurring role on Home and Away as Tabitha Ford. But Scanlen was all set to put acting on the back-burner and head to university when she got the call to test for Sharp Objects, telling the Daily Mail, "School was what I was focusing on and I thought, 'If something happens, great. If something doesn't, then I'll just go to university.'"
Balancing her burgeoning career with her schoolwork was something Scanlen had been doing for some time already, according to an interview with Women's Wear Daily. While she was still in high school, she took classes at Sydney's National Institute of Dramatic Art and pursued professional opportunities, but none of her auditions were panning out.
She was dedicated to finishing up her final year of high school and doing well on her higher school certificate, but decided to try out for Sharp Objects during her break because she was a fan of Flynn's work. From there, it seems like the process went by quite quickly. Scanlen told the Daily Mall, "But I got a call after I finished school and HBO wanted to fly me over and do a screen test with Amy, so I said OK and I did the screen test and by the end of the trip I got the part."
Now that filming is finished, Scanlen is back in school, taking online classes at Macquarie University in Sydney. She doesn't seem to have any new projects lined up in either film or television, but she informed WWD that she was still auditioning. After her debut in Sharp Objects, she might just be fielding offers left and right.
Scanlen described being whisked off to act opposite such Hollywood icons as Amy Adams and Patricia Clarkson as "initially intimidating" when talking to Vanity Fair. However, it seems like the women quickly bonded, with Scanlen saying that she was proud of her work and it "wouldn't have been possible without Amy and Patricia."
The fond feelings are mutual. Scanlen told Entertainment Weekly that she was starstruck during her screen test (and seriously, who wouldn't be?), but it must not have showed, because Adams was incredibly impressed by the young actress. "She never backed down," Adams said to EW. "There were a lot of scenes where she surprised me, and that's exciting. I like when actors surprise me." The praise didn't end there, either:
Eliza was able to outmaneuver me. When she walked out of the room, I looked at Jean-Marc [Vallée, the series' director], and he was just floored.
Amma is a consistently surprising character, one who shifts from suspicious sweetness to sudden threats, but no matter what face she's presenting to the world, she hides a lot of darkness underneath. From the sound of it, Scanlen managed to capture all of those qualities, making her the perfect person to embody such a memorable character.