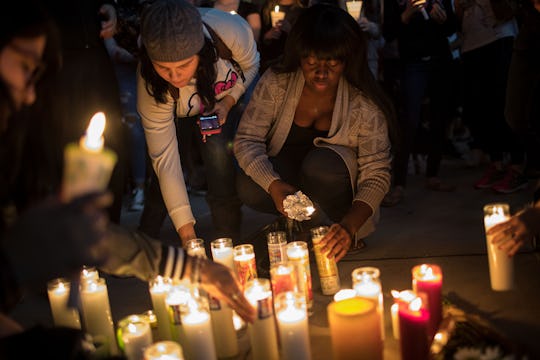 Drew Angerer/Getty Images News/Getty Images
Las Vegas Victim Rachael Parker Was Popular & "Always Smiling," Her Coworkers Said
As the world attempts to come to terms with the worst mass shooting in U.S. history, the trickle of victims' names continues. At least 59 people have been confirmed dead so far, in the wake of a massacre that took place at the Route 91 Harvest Music Festival in Las Vegas on Sunday — and Rachael Parker is one of them. Who was Rachael Parker? She worked for the Manhattan Beach Police Department.
Shots began at around 10 p.m. local time on Sunday from the 32nd floor of the Mandalay Bay Hotel and Casino — and ended with at least 59 victims estimated dead, along with 527 injured, according the The Guardian. The shooter, who will not be named by this publication, was found dead by police in his hotel room following the deadly act of terrorism. So far, no motive has been determined.
According to CNN, Parker was a 33-year-old records technician for the Manhattan Beach Police Department in California. She was shot in Las Vegas and later succumbed to her injuries at a hospital. Parker had been employed with the police for 10 years, and "will be greatly missed," the department said in a statement.
Parker and three other employees of the Manhattan Beach Police Department (who were all off-duty at the time) had all attended the musical festival together, reports CNN. A sworn officer with the department was also shot during the Las Vegas massacre, but only suffered minor injuries, the outlet said.
Police spokeswoman Kristie Colombo told The Daily Beast that Parker worked the front desk at the station. "She's a very popular person. A lot of people knew her as the face of the department when you come in," Colombo said. "She's the first person you encounter, so she did personally affect a lot of people's lives ... and put smiles on people's faces."
Unfortunately, the Manhattan Beach community was hit especially hard in the wake of the terror in Las Vegas. That's because Parker wasn't the only Manhattan Beach public employee among the list of confirmed deaths. Sandy Casey, 35 — who had been a special education teacher for the past nine years at Manhattan Beach Middle School — was also killed in the massacre.
"She's absolutely loved by students and colleagues alike and will be remembered for her sense of humor, her passion for her work, her devotion to her students, her commitment to continue her own learning and taking on whatever new projects came her way," Manhattan Beach Unified School District Superintendent Mike Matthews said of Casey, according ABC7. "She's made a tremendous difference in the lives of our students and their families, many of whom worked with her over multiple years. Her loss will be deeply felt at MBMS and throughout the entire Manhattan Beach community."
A special education teacher. A nurse who died saving his wife. An employee at a police department who regularly volunteered and loved dogs. These victims are just the tip of the iceberg. Because at least 59 innocent people lost their lives at what was supposed to be an amazing time at a country music festival. Instead, their families, friends, communities, and complete strangers will mourn the needless shedding of blood.
If you're reading about the victims of the Las Vegas shooting and are at a complete loss for words or actions, there are ways you can make a difference. Donate blood, if you live in the area. Donate to the local Red Cross chapter. Support the GoFundMe campaigns of victims and their families. Support gun safety legislation. We owe it to the victims to help in any way we can — and to do everything within our power to ensure another mass shooting isn't just around the corner.