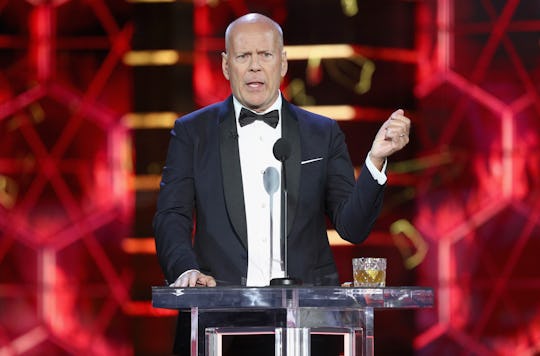 Frederick M. Brown/Getty Images Entertainment/Getty Images
A *Surprise* Guest Joined The Roast Of Bruce Willis
It's been a whlie since Comedy Central hosted a roast of a celebrity, but now the comedy special is back and Emmy winner Bruce Willis is in the hot seat. Though the special won't air until Sunday, July 29, the roasting already took place on July 14. Now people are wondering who will be roasting Willis at his roast? If you don't want to be spoiled, turn back now.
Joseph Gordon-Levitt, who co-starred in Looper with Willis, served as the roast master for the show. Also on the dais was comedian Nikki Glaser, former NBA player Dennis Rodman, and actor Edward Norton, who starred with Willis in Moonrise Kingdom. Then, in a surprise appearance, Willis' ex-wife, Demi Moore, took the stage to take some shots at her second husband. The couple were married for 13 years and have three children together: Rumer, Tallulah Belle, and Scout LaRue.
Moore is currently being praised as one of the highlights of the entire night. According to Metro, she compared her marriage to Willis to his iconic film The Sixth Sense, stating, "I look at our marriage like The Sixth Sense. You were dead the whole time." Glaser was also hailed for having some hard hitters. This was her second roasting of a celebrity; she first appeared at the Comedy Central Roast of Rob Lowe back in 2016. This year she took aim at Willis by saying, "Your daughters must be so proud of their father, Ashton Kutcher," referring to Moore's third husband after Willis. Moore and Kutcher divorced in 2013.
Unfortunately, Rodman's jokes didn't land as well, and many were a little confused about why he was there in the first place. The basketball player turned reality star attempted to make a joke comparing Willis to North Korean leader Kim Jong-un, which did not go well. "You keep making these bomb movies like Kim," Rodman said, "but at least he is smart enough not to release his." Rodman then apologized for the joke and others that also didn't land well.
As always, after the roasters were done, Willis then got to stand at the dais and take his own shots at the roasters. Most notably he told Norton, "You've rubbed more people the wrong way than Harvey Weinstein." Yikes! Though the jokes were certainly a highlight, it was Willis' declaration that the first Die Hard movie was "not a Christmas movie" that caused a lot of buzz.
There's been a long debate about whether or not the popular action film should be considered a holiday movie since it does take place during the holiday season. Despite Willis' declaration, the film's co-writer Steven E. de Souza tweeted back in December, in reply to a fan's tweet, that the film is a Christmas with the hashtag, "#DieHardIsAChristmasMovie." So it looks the debate about whether or not Die Hard deserves to be called a holiday movie isn't just amongst fans but is also still happening between those who worked on the film.
Although some critics are calling the roast a "bizarre" night, most seem to agree that it's worth a watch, even if some of jokes were totally misses. And if you're wondering why Willis would agree to be roasted right now as opposed to any other time, it's most likely to help get some more buzz ahead of his new film, Reprisal, which is set to release on August 31. The new film also stars Frank Grillo, Johnathon Schaech, and Olivia Culpo.
The Comedy Central Roast of Bruce Willis airs on Sunday, July 29 at 10 p.m. ET on Comedy Central, BET, MTV, and VH1.