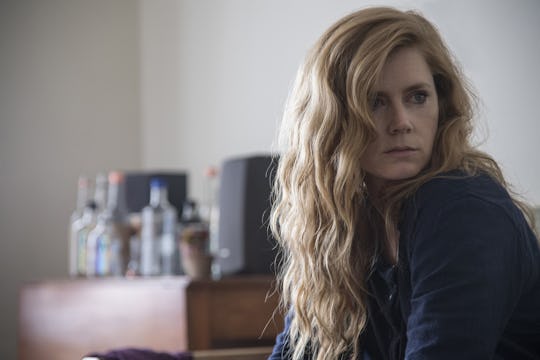 Anne Marie Fox / HBO
You've Probably Heard Of The Author Of 'Sharp Objects'
As much of a science fiction nerd as I am, after watching Big Little Lies and The Night Of, I'm officially hooked on dark dramas from HBO. Now the network is slated to release it's newest drama series, Sharp Objects, and if you've caught a glimpse of the trailer, you know it's going bring a deliciously dark thrill to your summer. The series is based on a book, so people are wondering, who wrote the Sharp Objects novel? Believe it or not, it comes from an author who's found huge success on screen already.
The novel, Sharp Objects, was written by Gillian Flynn, the celebrated author behind the hit movie and novel, Gone Girl. Sharp Objects was her very first fiction novel, after which she wrote Dark Places, and then Gone Girl. After the success of Gone Girl, Dark Places was also was adapted into a film in 2015 with an all-star cast including Charlize Theron and Christina Hendricks. All three of her fiction novels have made it to the New York Times Best Seller List, and for her Gone Girl screenplay, Flynn was nominated for numerous awards, including a Golden Globe, BAFTA, and Writers Guild of America Award.
Flynn got her start writing as a freelancer for U.S. News & World Report, and was later hired as a feature writer for Entertainment Weekly in 1998. In an interview with The Guardian, she attributed her success in fiction writing to her 15 years of experience as a TV critic and journalist. ""I could not have written a novel if I hadn't been a journalist first, because it taught me that there's no muse that's going to come down and bestow upon you the mood to write," she said. " You just have to do it. I'm definitely not precious."
As a writer, Flynn has a way of mesmerizing audiences, which she has done brilliantly with Sharp Objects. The story follows Camille Preaker, played by Amy Adams, who is a reporter returning to her hometown and estranged family after spending some time in a psychiatric facility. While she begins investigating the murder and disappearance of two young girls in town, Camille revisits some of her own childhood demons, setting the tone for what looks like some deliciously ominous and intriguing TV.
While walking the red carpet at the premiere screening of the Sharp Objects pilot episode at the ATX Television Festival, Flynn told Fox 7 Austin that she wrote the book because she felt that there weren't enough stories about complicated women in popular media. She told the outlet:
You know, I just feel like it's really important to show women in their dark side. I think you see men and their dark sides a lot, especially on TV, with you know Sopranos, Mad Men, and Breaking Bad. And those are done all wonderfully well, but for me, what was really missing was seeing women with a dark side that's very frightening — and that certainly is Sharp Objects.
Flynn wrote Sharp Objects back in 2006, but she's still shepherding the story today. Not only did she help write the eight-episode HBO screenplay with writer Marti Nixon, she's also working as an executive producer on the series. Big Little Lies director, Jean-Marc Vallée is taking the helm as director and producer, so fans of that series can expect to be once again spellbound and hypnotized by his signature style and tone. As if remarkable writers, directors, and producers weren't enough, Sharper Objects has a cast of award-winning actors, including the amazing Amy Adams, Elizabeth Perkins, Patricia Clarkson, and Chris Messina.
From novel to HBO series, Sharper Objects has come a long way. I can easily see the series winning a few Golden Globes and Emmy Awards down the line, but for now, I just see it becoming one of the best shows of the summer.
Sharper Objects premieres on July 8 on HBO.