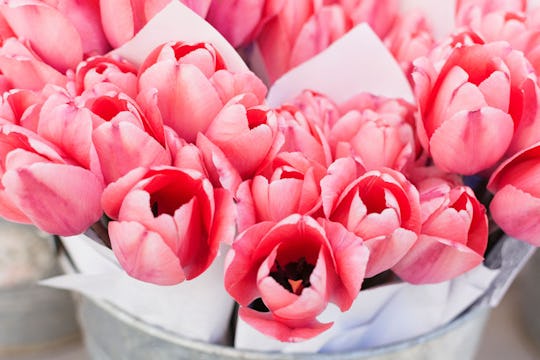 Kristin Duvall/Stocksy
OMG, You Can Get A Bouquet Of Tulips For $9 At Whole Foods This Mother's Day
Mother's Day usually isn't as stress-free as it's intended to be, especially if you can't think of anything your mom would want (or approve of) as a gift. Fresh flowers are always lovely, but not particularly budget-friendly... especially considering your present will only last for a few days. That's why this news is so amazing: This year you can get mom a bouquet of stunning Mother's Day tulips from Whole Foods for just $9... as long as you're an Amazon Prime member, that is.
As you probably know, Whole Foods Market was acquired by Amazon in 2017, as reported by The New York Times. So you now have the combined forces of Amazon's quick delivery and Whole Foods' fresh products at the touch of your fingers, which makes day to day life easier, not to mention holiday shopping — as do the many discounts available only to Whole Foods shoppers who happen to be Prime members. This Mother's Day, for example, Amazon is offering 20-stem bunches of tulips at $9 for Prime members and $17 for all other shoppers, according to a press release, allowing you to give mom a bountiful bouquet for a steal. Your wallet will thank you for those prices, as competitors are selling similar bouquets for upwards of $50 to $80, Delish reported.
The deal is live now and runs through May 12, so you can always grab a belated bouquet (since Mother's Day is on May 10 this year). Free delivery is included with Prime, too (though as you're probably aware, it's pretty tough to pin down a delivery time slot from Whole Foods or any other grocery store at the moment, so think ahead).
And if your mom isn't into flowers, Whole Foods also has a variety of beauty products you can treat your mom to, from sheet masks to vitamin C serum, if that's more up her alley.
Frankly, I'm not sure how people did Mother's Day before Amazon and Whole Foods. Head to their Mother's Day page now to see what you can get your mom, and make a wish-list for yourself while you're there. After all, mom taught you to take advantage of a good discount, didn't she?
This article was originally published on