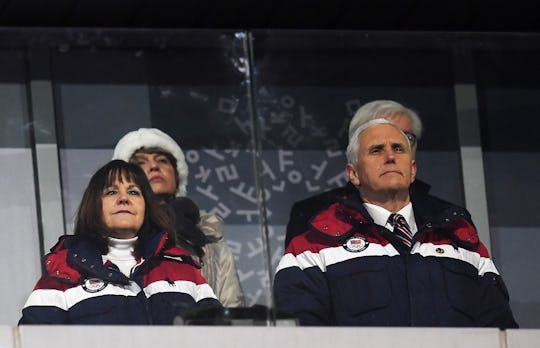 Matthias Hangst/Getty Images Sport/Getty Images
Mike Pence Didn't Stand For Korea At The Opening Ceremony & People Noticed
It's hard not to stare at people during the Winter Olympics opening ceremony (especially the Tongan shirtless flag bearer, hello) — the athletes and entertainers that make up the opening ceremony are so entertaining. But during the opening ceremony, people couldn't look away from vice president Mike Pence, either, who didn't stand when both North Korea and South Korea walked into the arena during the Parade of Nations united under one flag, together. So why didn't Mike Pence stand for Korea at the opening ceremony? Whatever the case may be, people weren't too happy with his actions.
During every Olympic opening ceremony, the host country shows off what makes their country special and welcomes viewers into the Olympics. It's a celebration of life and all of the cultures that make our world so beautiful. These performances are followed by the Parade of Nations, where each nation makes their debut with their country's flag and a uniform that represents where they come from.
Every nation did this, including both athletes from North and South Korea, who marched together into the area under one united flag. The last time athletes from both Koreas were able to do this was during the 2006 Winter Games in Turin, Italy, according to the International Olympic Committee. Needless to say, it's a huge deal. But Pence wasn't as into it, remaining seated as athletes from Korea came in together.
Pence only stood when the United States entered, according to the Associated Press, and did not stand for any other country. But there could be a reason behind him sitting down for Korea (and it's not because his legs were tired).
Earlier in the day, Pence had met with the parents of Otto Warmbier, a student who was detained by North Korea during a school trip after he attempted to steal a political poster, according to CNN. Warmbier was sentenced to 15 years of hard labor and spent 17 months in North Korea, according to CNN, before he was released in a coma to his parents where he died shortly afterwards. Warmbier's father, Fred Warmbier, was Pence's special guest during the opening ceremony of the Olympics. And shortly before the Olympics started, Pence tweeted about the meeting with the Warmbier family and called North Korea an "oppressive regime."
Because of this, people on Twitter assumed that Pence was sitting down in protest — especially with the Warmbier family sitting by his side — taking to Twitter to share their reaction about Pence's clear statement.
To make matters worse, according to HuffPost, Pence showed up late to a VIP reception before the opening ceremony and found himself without a seat. During this reception, Pence shook hands with everyone seated at a table of dignitaries, according to HuffPost, except North Korea's head of state Kim Yong Nam. This snub was noted by the people around him, according to HuffPost. Awkward.
People are pretty familiar with Trump's thoughts on North Korea (spoiler alert: he doesn't like Korean dictator Kim Jong Un) and Pence feels similarly (except without calling anyone funny names). In an interview with NBC News on Friday, Pence stated that the United States is "not ruling out any military action" against North Korea. Pence said, according to NBC News:
We're gonna make it crystal clear that our military, the Japanese self defense forces, our allies here in South Korea, all of our allies across the region, are, are fully prepared to defend our nations, and to take what is — action is necessary to defend our homeland.
Both Koreas walking together is a pretty big deal, regardless of what Pence thinks about North Korea. Having a unified Korea walk together, according to the New York Times, symbolizes "hope" offering the possibility of a breakthrough between the two nations which have remained tense thanks to the regime in North Korea.
But Pence's actions at the Opening Ceremony seemed a little bit hypocritical to some Twitter users. If you recall, during the fall, Pence was an opponent of football players deciding to sit for the National Anthem. Pence was so against this that he walked out during an Indianapolis Colts game when players decided to sit for the National Anthem in his presence.
Whether Pence was making a statement or simply didn't want to stand for both Koreas, it seemed intentional and Pence made a statement, regardless if that really was what he intended to do.
Check out Romper's new video series, Bearing The Motherload, where disagreeing parents from different sides of an issue sit down with a mediator and talk about how to support (and not judge) each other's parenting perspectives. New episodes air Mondays on Facebook.