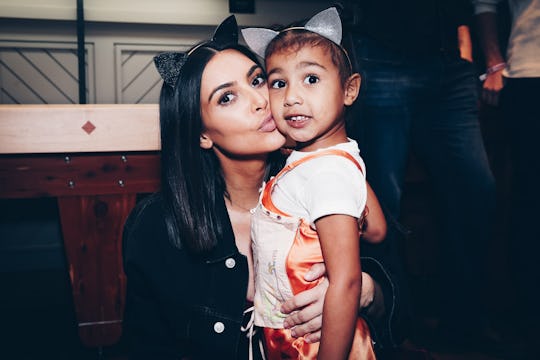 Handout/Getty Images Entertainment/Getty Images
Why Kim Kardashian Doesn't Give Her Kids Gifts Is Something Every Parent Can Understand
In an age of instant gratification, it can be hard for some parents to navigate raising kids without, sometimes inadvertently, spoiling them. There's nothing wrong with treating your kids every once in awhile, of course, but all parents are ultimately trying to raise well-rounded children — and it's a goal that doesn't go away even when the parents in question are celebrities. For example, a recent interview highlighted why Kim Kardashian doesn't give her kids gifts and it's something every parent can understand.
Currently, the Kardashian-West household includes three children: North West, 5, Saint West, 2, and Chicago West, nearly 6 months. They're all very young, which means it's an important time to start instilling some real values and habits.
In terms of money, Kardashian and husband Kanye West both have it pretty good, with a combined net worth of a reported $335 million, according to Celebrity Net Worth and TIME. With that much money, it can be easy for parents to become tempted to completely spoil their kids rotten, but Kardashian is very conscious of avoiding just that.
As she recently wrote in a recent Wealthsimple essay:
I worry about giving my kids too much. We don't do gifts. They have to really earn it. But we talk about it all the time, about not getting too much and just trying to be as grounded and well-rounded as possible
In the past, Kardashian has received flack for being materialistic. One episode of Keeping Up With the Kardashians followed Kardashian around a mall and a clip's YouTube description even reads, "Is Kim's shopping addiction getting out of control? See if she can resist the urge to spend during a mall outing."
But, after a traumatic event in Paris in 2016 where she was bound and robbed at gunpoint, according to E! News, Kardashian has said that the night changed her. According to Refinery29, she appeared on The Ellen DeGeneres Show in April 2017 and said, "It was probably no secret, you see it on the show when I was being flashy, like I was definitely materialistic before."
Kardashian elaborated on her new position in her Wealthsimple essay, using cars as an example. A luxury item that she once loved to indulge in, Kardashian wrote for Wealthsimple, "...I've been getting rid of my cars... I don't need my flashy car. It doesn't really matter to me." And this idea of downsizing is something that Kardashian has carried over into her parenting. "I don't like presents anymore. I just don't want that stuff right now," Kardashian wrote in the same Wealthsimple essay.
The idea of not giving presents to children may seem harsh, but other celebrity parents are actually doing the same.
While sitting down with Entertainment Tonight to promote A Bad Moms' Christmas, Mila Kunis shared her family's new tradition involved no presents for the kids. Kunis, who has two children, Wyatt and Dimitri, with husband Ashton Kutcher, explained that her children had previously been spoiled with presents by grandparents. As she told Entertainment Tonight:
So far, our tradition is no presents for the kids. We're instituting it this year because when the kids are [younger than] one, it doesn't really matter. Last year when we celebrated Christmas, Wyatt was two and it was too much. We didn't give her anything -- it was the grandparents. The kid no longer appreciates the one gift. They don't even know what they're expecting; they're just expecting stuff.
And that idea, of kids expecting stuff for the sake of stuff, is something that's very important to tackle. That's not to say all parents need to immediately give up gift giving — there's no one way to raise a family. But hearing stories of how A-list celebs like Kim Kardashian and Mila Kunis are tackling potentially spoiling their children can help other parents tackle the problem themselves.
After all, for the Kardashian-West family, it's not about depriving the kids of anything. Instead, as Kardashian explained, it's about raising grounded kids — and isn't that something every parent can get behind?