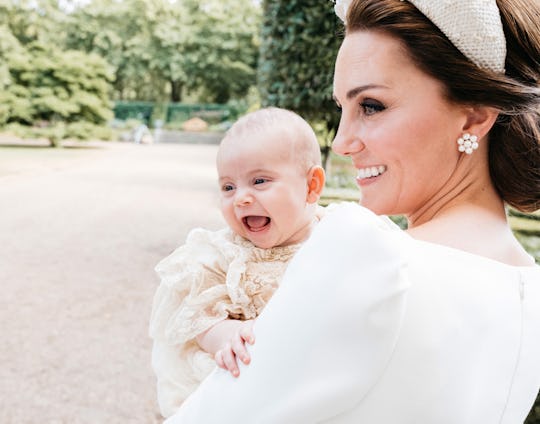 Handout/Getty Images Entertainment/Getty Images
Why The Royal Family Shared This Candid Photo Of Prince Louis & Kate Middleton
The royal family recently surprised the public by releasing an additional photo of Prince Louis on the day of his christening. Considering official photos of the July 9 event had already been released, the adorable new picture definitely came as a surprise for everyone on Monday morning. But the story behind that candid photo of Prince Louis and Kate Middleton is honestly as cute as the photo itself.
In the photo, Prince Louis is still dressed up in his christening outfit. He's positively beaming at someone off camera, while his mom holds him and smiles in the same direction. It reads like a very personal shot of mother and son because, well, it is.
The official family portraits at the christening were captured by photographer Matt Holyoak, according to Hello! Magazine, and it was the first time Prince William and Kate Middleton had been pictured as a family of five. But, according to People, this extra sweet and candid moment was captured by photographer Matt Porteous, who was actually taking pictures after the christening for the family's private use for their "personal family albums," according to Hello! Magazine. And as the publication's royal correspondent Emily Nash reported, the royal family decided to share it with the world "because it was just too lovely not to."
On Monday, the official Kensington Palace account tweeted the picture, saying, "The Duke and Duchess hope that everyone enjoys this lovely photograph of Prince Louis as much as they do."
The photograph was taken after the christening in the gardens of Clarence House, as reported by People. The royal family's website noted that Clarence House is the official London residence of Prince Charles and Camilla, Duchess of Cornwall. So, in other words, this adorable picture was taken in grandpa's gardens.
On Porteous' website, his photographer biography noted that his photos are "alive with emotion and movement". Through his work, Porteous allows others to glimpse his "excitement, his humor, and his soul". All of this is evident in his shot of Prince Louis and Kate Middleton, who look like mother and son enjoying time together, free from any outside pressures.
After the picture was released, Porteous shared the photo on his Instagram account with the caption, "Moments like these 'It was an honour and a privilege to photograph the christening of Prince Louis'".
He also reportedly thanked fans on his Instagram Story for their support. According to People, the photographer wrote, "Overwhelmed by the love and support, an image that has touched so many hearts, thank you for all the comments and support. It is a true honor to capture such a beautiful moment in time."
Prince Louis' christening marked the first public appearance since the young prince was born and made his debut on the steps of the Lindo Wing, according to Hello! Magazine. In addition, that meant the christening marked the family's first outing as a family of five.
It's also fun to note how much Prince Louis resembles his big brother, Prince George. A Twitter account dedicated to the Cambridge family re-shared a photograph of Prince George at his own christening in 2013; the two are wearing the same robe, as E! News noted, which is what all three siblings have donned for their christenings.
But beyond that, there's definitely a lot of similarities between the two boys. However, Prince Louis was christened a little bit earlier than Prince George. According to Express, Prince George was christened when he was 3 months old, but Prince Louis was only 2 months and 2 weeks at the time of his.
Two months is really young, but it's still hard to believe so much time has passed since Prince Louis was born. Fans are definitely looking forward to watching as the three siblings grow together. Since Prince Louis is clearly taking after his brother in looks, maybe they'll even mimic each other in personality — who knows, right?
For now, though, it's great to see a heartwarming photo of the prince and his mom. Prince Louis, who was asleep at the start of his ceremony, definitely woke up and gave the camera his very best!