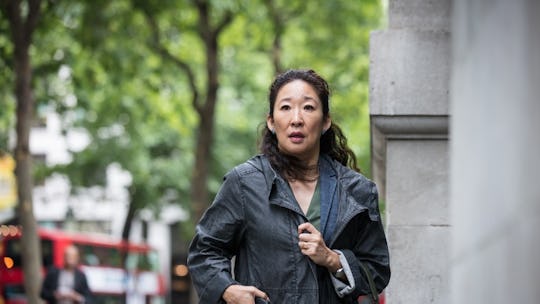 Sophie Mutevelian/BBC America
'Killing Eve' Ian't In The Running For An Emmy For Best Drama Series This Year
When it comes to TV, earning an Emmy symbolizes that the program is at the top of its genre and a lot of the time, it ensures the series' longevity on a network. So imagine my surprise when the 2018 Emmy nominations were announced and one of the biggest dramas wasn't on that list. Like me, many fans are wondering why Killing Eve wasn't nominated for an Emmy in the Best Drama Series category.
Killing Eve has graced our television screens for just one season so far, bringing the kinds of highs and lows that we have all come to expect from television dramas, and for all intents and purposes, it was a shoo-in this year. Unfortunately, the Academy didn't think so and Killing Eve was snubbed out of an Emmy nomination for Best Drama Series.
Since this as the show's first season, it doesn't have any big wins under its belt, but since the show's star Sandra Oh was nominated this year, it only made sense that the show for which her performance earned her the nomination would be as well. Somehow, though, Killing Eve wasn't nominated this time around and it was a pretty big shocker. What I and surely millions of other fans want to know now is: why?
The short answer is that it's such a new show in a world of established dramas with steady fan bases and this time around, literally every series in the category was already a well known and bona fide hit. That's not to say that Killing Eve isn't gaining a fan base of its own or that there aren't tons of fans who are ready to take this snub to the streets, but when you have shows like Game of Thrones, Westworld, and The Handmaid's Tale in the same category, clearly the idea was to nominate some of the bigger blockbustery shows.
It also probably doesn't help that Killing Eve is on BBC America, while all of the other shows in the category are on what some might call more mainstream networks or streaming platforms. Obviously people are watching the show, since Sandra Oh, one of the leads, was nominated for Best Actress in a Drama Series, so that's certainly a start. And like I said, an eight episode first season can only draw in so many viewers and so much attention, especially when pitted up against some TV masterpieces of the moment.
Although Killing Eve is on BBC American as opposed to one of the more mainstream networks in the United States, it's not against any rules for an international show to get an Emmy nomination or two. In 2016, there were 22 Emmy nominations across the board for different British TV shows and actors, including Downton Abbey and Catastrophe. With Oh receiving praise and recognition for her role in Killing Eve, it's really only a matter of time before the show itself is recognized on a wider scale.
It currently has a 97% fresh rating on Rotten Tomatoes and Deadline reported in May that Killing Eve had hit an all time network high in terms of viewership. For its second to last episode of Season 1, the show drew in 986,000 total viewers, which was apparently the first time a scripted series on the network had ever been able to do that.
"This show has exceeded our expectations in every possible way, and we came into it with very high expectations," Sarah Barnett, president of BBC America, told Deadline at the time. "On every level, this has been one of the ones you dream about when you get into this business and, luckily for us, the dream continues into this Sunday's finale and a second season that is already in the works."
Now that there's definitely going to be a second season and one of the lead actresses has a solid Emmy nomination for her role, I fully expect that next year, Killing Eve will get all of the attention it deserves.