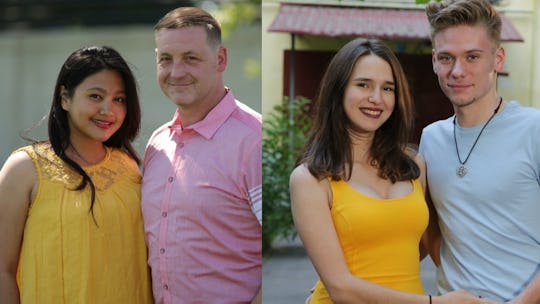 TLC
Here's Who We'll See On This Season Of '90 Day Fiance'
Before the 90 Days is coming to an end, but 90 Day Fiancé fans need not worry, as a new season of the original show is beginning soon. Will anyone from 90 Day Fiancé: Before the 90 Days be on 90 Day Fiancé? Season 6 brings a lot of brand new faces.
Judging by the Season 6 90 Day Fiancé trailer, no — no one from this round of Before the 90 Days will be featured. Even though this Before the 90 Days cast was so entertaining to follow, I think this is a good thing. Not only will fans see their stories wrapped up in the season finale — and be able to keep up with them on social media — but they will get to know six all new couples. From the looks of the profiles of 90 Day Fiance's latest cast, it will definitely be a season to watch.
Longtime fans know the drill: one partner is from the United States, and one is from another country; the premise is that they have 90 days to marry before the foreigner's visa expires and they need to return to their home country. This is a bit different than the concept of Before the 90 Days, where the American goes to the foreign country beforehand (hence, "before" that 90 day period) to see if they click and want to go through with the marriage.
For new viewers, Before the 90 Days is the spinoff of the original 90 Day Fiancé, so it makes sense to wonder whether the casts will overlap. That doesn't appear to be the case, though. Given as Season 5 of 90 Day Fiancé ended last December, the producers had plenty of time to find six all-new couples to introduce fans to. According to TLC's press release, this season of Before the 90 Days is pacing towards the highest-ranked season in franchise history — and contributed to making TLC the top network women watch on Sunday nights. If no one from Season 2 of Before the 90 Days — apparently the best season of the franchise in terms of ratings — is going to be on 90 Day Fiancé Season 6, who will be?
One couple is Kalani from California and Asuelu from Samoa. In the trailer, Kalani reveals that she and Asuelu actually met in person before before and had sex; not only was it Kalani's first time, but she got pregnant. The baby is now five months old and Asuelu has 90 days to prove to Kalani's family that they should be together for life. Kalani is not the only American parent on this season. Eric, from Wisconsin, is divorced with three daughters; he met his soon-to-be-fiancé, Leida, on a personal ad. Apparently, Leida comes from a very wealthy family, so she may have trouble adjusting to Eric's lifestyle in the U.S.
Then there's Ashley from Pennsylvania and Jay from Jamaica. The two met at a club, according to TLC's press release, and Jay traced her down on social media. After a whirlwind eight days together, Jay proposed. The most memorable moment of this season's trailer for me was when Ashley said of Jay, "If Jesus came down from heaven right now and said [Jay] cheated on me, I wouldn't do anything about it." What!? I need to watch to see why Jay is so great that Ashley would say something like that.
Jonathan from North Carolina and Fernanda from Mexico also met at a club — and then he proposed after three months. While that's not as an extreme timeframe as Ashley and Jay, there is also a 12-year age difference between Jonathan and Fernanda that will likely come up this season.
Steven from Maryland and Olga from Russia, however, are the same age (20). They met when Olga was studying in the states, and she got pregnant. I wonder if she and Kalani will have a chance to meet and discuss their similar situations — but if not, fans will certainly see all the drama that goes down.
Rounding out the cast is Colt from Nevada and Larissa from Brazil. They met on social media and win the award this season for fastest engagement: five days. How will Colt, Larissa, and the rest of these couples fare with 90 days together? Fans will have to watch this season to see and I, for one, can't wait.