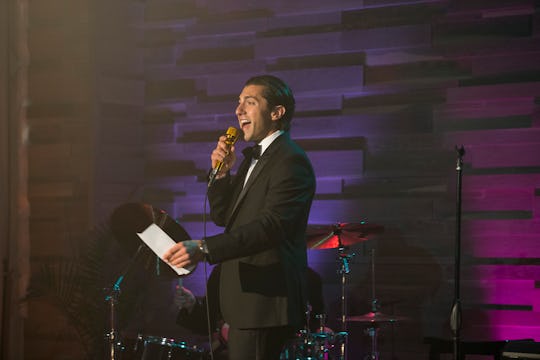 Paul Hebert/ABC
Fans Are Hoping To See Jason On 'Bachelor In Paradise'
As much as I love The Bachelor and The Bachelorette I could wax poetic about Bachelor in Paradise for days. Seeing as a lot of the cast will be made up of contestants from the last two seasons, people want to know which of Becca's guys will be in the cast. For example, will Jason be on Bachelor in Paradise? He's still in the running for Becca's heart, but there can only be one winner.
Jason is a senior corporate banker from Buffalo, New York. His ABC biography states, "A successful banker with a heart of gold. When Jason's not rooting for his hometown Buffalo Bills, he's belting out tunes from his favorite Disney movies. He's hoping to sing his way into the Bachelorette's heart." Well, he hasn't had a one-on-one date yet, but given the promo for the rest of this Bachelorette season, he sticks around — so he must have his chance soon.
This is good news for Jason, especially given that earlier this season Becca forgot Jason's name. Jason was a great sport about it, and it didn't even signal doom for him. Jason has stuck around, and it seems that he and Becca have a connection — so much so that previews show he tells her he's falling in love with her later in the season. But does it go wrong for him? Will he have another chance in Paradise?
As of now, fans don't know. The cast for Season 5 of Bachelor in Paradise has been released, but Jason isn't among them — yet. He is still on the show, so obviously ABC slipping that he's on the cast would spoil The Bachelorette for us all. As of this moment, Jason has a 1 in 9 chance of winning at this point — which is not a huge chance. But he is still in the competition, so there is no official word yet.
There are a few ways Jason's Bachelor trajectory can go. He could win The Bachelorette. He could lose and choose to never be involved with this franchise or any of its many offshoots again. He might lose and end up the lead of the next season of The Bachelor. Or, he could lose and try to fall in love in the sun-soaked bizarro-world that is Bachelor in Paradise
I have taken a liking to Jason, so I'd be happy with one of the last two (and of course, the first, but I'm not sure he'll make it there). So far, the men from Becca's season cast on Paradise are David, Jordan, Joe (aka the grocer Becca wrongfully sent home during the premiere), John (Mr. Venmo), and Nick (tracksuit man).
I'm excited to see those contestants search for love on a Mexican resort, but there's still a chance Jason will be involved. For fans who have never watched Paradise, new contestants "show up" on the show as the season goes on and other contestants have been sent home. Having Jason appear would be a great surprise. I think he would offer some drama-free fun. Or he could be one of the contenders to stir up a love-triangle.
Already, I can tell there's going to be some drama on Bachelor in Paradise because arch-rivals Jordan and David from Becca's season are already on the docket. For now, though, I'm going to keep rooting for Jason on The Bachelorette. If he does go home on the show, I'm still hoping he gets the opportunity to fly to Mexico, grab a margarita made by bartender Wells, and look for love on the beach.