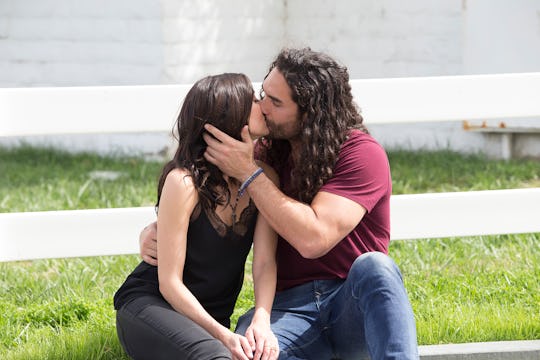 Paul Hebert/ABC
What Does Leo's Future Look Like Post 'Bachelorette'?
Even though The Bachelorette is just getting to the good part (in my opinion, anyway), fans are already wondering who will be on Bachelor in Paradise. He's still in the competition, but will Leo be on Bachelor in Paradise? He's become a fan favorite due to his frank commentary and, of course, the man bun.
There are now just nine contestants left, so while Leo has definitely made it past most in the competition, there's still a way to go to win Becca's heart. Also, 1 in 9 is not the greatest set of odds and as of right now, chances are he won't win.
Fear not, though, because there are plenty of options for men who don't end up engaged at the end of The Bachelorette. A very few go on to become the lead of The Bachelor themselves, they choose never to take part in another Bachelor show again, or they take part in a spinoff like the fan-favorite Bachelor in Paradise.
As of now, I can't say what path Leo would go down should Becca send him home. ABC released the initial Bachelor in Paradise cast and as could have been predicted, the majority are from the latest seasons of The Bachelor and Bachelorette. Among those jetting off to Mexico from Becca's season are Jordan, David, Grocery Store Joe, John, and Nick (who wore a tracksuit to one rose ceremony, which is possibly the most memorable thing about his Bachelorette tenure).
Just because Leo is not among this crop of guys, though, doesn't mean he won't end up on Paradise. For one, he is still on The Bachelorette, so ABC wouldn't reveal that he will be on it because they would be spoiling their own show. Furthermore, on Paradise, people come and go. The cast in the first episode of the season grows each passing week as new people arrive. That could be the case with Leo; he may not be in week one, but he could pop up later on down the line looking for love.
Leo, 31 years old, already lives in LA, so he didn't have to go too far to arrive to The Bachelorette mansion. "A Los Angeles native, Leo is a successful stuntman in TV, movies and stage shows," Leo's ABC biography states. "When he's not taking a punch, he works for his family construction business. Leo's been growing his hair for 10 years and prefers the 'messy bun' look." Judging by Leo's (full name, Leandro Dottavio) IMDb page, he's legit: he's done stunts for movies like Moneyball, and he's also had small roles in TV shows like American Horror Story and SMILF.
Leo and Becca have a lot of chemistry on the show, and that's just from what the audience has seen. Becca revealed that her first kiss on The Bachelorette was with Leo, not Garrett, but it wasn't aired. "First kiss was Leo," Becca told Us Weekly. "Which no one saw!"
If I had to guess, I think it's more probable that Leo ends up on Paradise than as The Bachelor. First off, there's only one Bachelor per season while there are much more Paradise contestants. What's more, he may not end up far enough along in the competition for ABC to consider him to be The Bachelor. But on Paradise? As long as you were on the show, you're in the running. Just look at Grocer Joe, who was eliminated in the premiere of The Bachelorette and is headed to Mexico. On Paradise, dreams can really come true, so even if Leo doesn't end up with Becca, he can still look for love with a margarita in his hand.