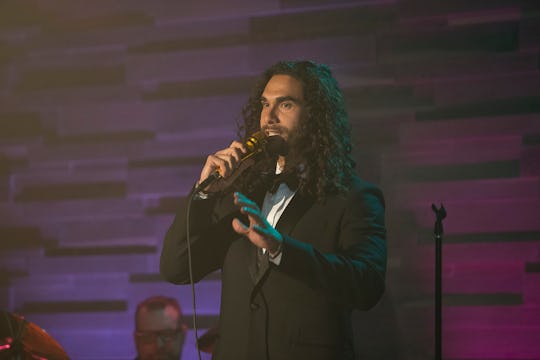 Paul Hebert/ABC
Fans Want More One-On-One Time With Leo On 'The Bachelorette'
After his one-on-one date with Becca, Bachelor Nation was collectively swooning over Leo — and his gorgeous hair. He really seemed to hit it off with Becca, so Leo might be around for longer than anyone thought. So will Leo get another one-on-one date on The Bachelorette? It's entirely possible.
Now that she has sent Lincoln and Chris home — finally! — there are just a handful of men left. Choosing between Garrett, Blake, Wills, Jason, Leo, and Colton will be no easy task, which means it's very possible that Leo could make it to at least the final four. Which means another one-on-one date or maybe even a fantasy suite, of all things.
Fans, if not Becca, are rooting for him. One Twitter user wrote, "IM TEAM LEO. he is the most precious man ever." Another added, "Yo I am not current on the bachelorette but if Leo goes home the house will crumble he is solely responsible for keeping these misguided young men upbeat and unified please no spoilers I am not in the mood."
People see a lot of promise in him, even going as far as to petition for him to be the next The Bachelor or to show up on Bachelor In Paradise this summer. If Becca sees what fans see, another date with Becca could be in the stars for the Los Angeles-based stuntman.
Not everyone is a fan of Leo, though. Rachel Lindsay, a former Bachelorette, thinks that the spark between Leo and Becca is more platonic than anything else. She wrote for Us Weekly:
It is not a good sign when the lead starts talking about the other men on a one-on-one date. I know Becca was opening up with Leo but it took away from their intimate moments. There was no doubt she was having a good time and no doubt when the man bun came out, so did more of Leo's personality.
She added, "But on this date, they seemed more like friends than lovers. He opened up to her and it was really sweet; but again, I didn't see or feel it. This was evident in their dancing! I take it that he has never been a stuntman on a dance floor. I think Becca gave him a pity rose." Because apparently there is such a thing.
Even if they were connecting on a friend level and she gave him a rose to keep him around, that's also kind of a good sign. It's a testament at the very least to Leo's personality and being a generally good guy. (So far.) Did you hear him on the date say, "we can just do nothing," when things didn't seem be going as planned? Like, that's sweet AF. If he's a safe space for Becca, who also seemed to enjoy smooching him, so be it. She could definitely use one after dealing with some of the other loser contestants this year.
She really has been stuck with quite a selection of questionable dudes, and Leo has been the voice of reason all along. He doesn't push Becca to talk or do anything she doesn't feel like or get involved with any of the drama like Chris or Jordan. And let's not forget that he served some great side-eye when Lincoln tried to convince the guys that the Earth might be flat (it most definitely is not, by the way).
Being a "good guy" and a reliable friend to Becca might not be able to get him all the way to the end of the season, but it should get him pretty far. Hopefully Becca will give him some more one-on-one time before she sends him packing.