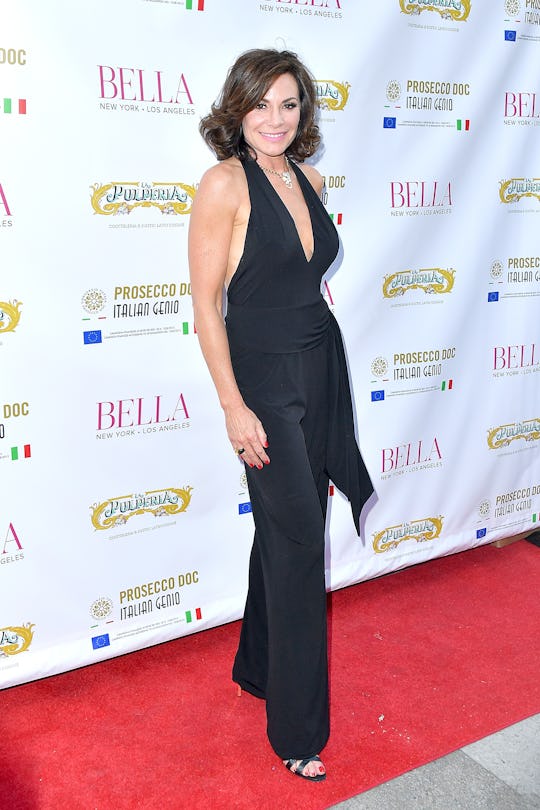 Michael Loccisano/Getty Images Entertainment/Getty Images
One 'RHONY' Star Will Be Missing From The Season 10 Reunion
Luann de Lesseps has had quite the year. After divorcing her husband Tom D'Agostino after seven months of marriage, she was arrested in Palm Beach. Facing charges of battery of an officer, disorderly intoxication, and resisting arrest with violence, Luann opted to go to rehab. She returned to The Real Housewives of New York in time for a trip to Colombia with the girls. But will Luann be at the RHONY reunion?
Luann will not be attending the reunion because she chose to check into rehab for a second time. According to a statement Bethenny Frankel released to People on Luann's behalf, it was a decision Luann came to with the help of her friends. "This weekend, Luann was surrounded by her girlfriends and decided — with their support — that in light of recent circumstances, it is the healthiest choice for her not to attend Tuesday's reunion taping so that she can continue in her healing process," Bethenny said. "Luann is now surrounded by a core group of people who truly have her best interests at heart and who are working to make sure she gets the help she needs."
As for what exactly led Luann to make the call, Bethenny added, "Recent additional family stress was a catalyst to her taking a break."
Luann recently celebrated six months of sobriety on Instagram, commemorating both that milestone and the Fourth of July with her kids and ex-husband, Count Alexandre de Lesseps. However, shortly afterwards the news broke that her ex and their children, Victoria and Noel, were suing her over the $8 million sale of the family's Bridgehampton mansion. Entertainment Tonight reported that the lawsuit is connected to the terms of the de Lesseps' divorce. Luann was supposed to set up a trust for the children using the interest from the Bridgehampton sale, but she failed to do so. Instead she purchased her Sag Harbor home with the funds.
Luann was planning to sell the Sag Harbor house, but the lawsuit would block the sale and require Luann to follow through on the original agreement. She would need to set up the trust, as well as give Victoria and Noel a half-interest in the new property. An anonymous insider told E! News that the lawsuit was a factor in Luann returning to rehab, saying:
She was having a very hard time with the drama of lawsuit surrounding her, and has been reflecting on all of her bad mistakes recently and completely hit a wall. She definitely thought she could handle incorporating alcohol back into her life casually, but eventually spiraled out of control.
The insider claimed that Luann would be in treatment for at least thirty days, but the information does not come from Luann herself, so it must be taken as speculation.
Luann will be missed at the RHONY reunion, but there's been nothing but support for her from the team at Bravo. On his SiriusXM show Radio Andy Live, host Andy Cohen said, "[Luann's] making the decision that is healthy for herself and you can do nothing but support that. She's been through it. We send our love to Luann." But even though Luann herself would not be present, Andy confirmed that her treatment and struggles would be discussed at the reunion.
Co-stars Tinsley Mortimer and Sonja Morgan wished Luann well while chatting with TMZ, while Ramona Singer said that they all felt bad but it would be okay. Bravo also released an official statement to People offering support. "She is part of the Bravo family and we continue to stand by her as she copes with this challenging situation," the statement read, in part. "At this time, we hope everyone will respect her privacy."
It sounds like Luann is doing what she needs to do to take care of herself.