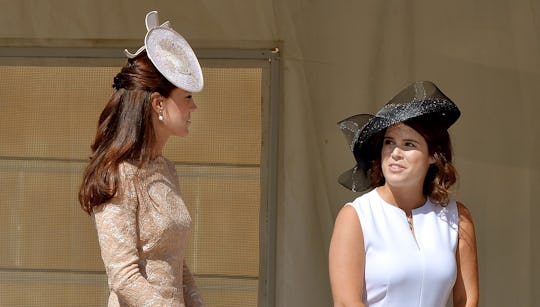 WPA Pool/Getty Images Entertainment/Getty Images
Will Prince William & Kate Middleton Go To Princess Eugenie's Wedding?
The British royal family has had quite an eventful year — a new baby prince, a new Duchess, not to mention all that ugly family drama that followed her across the pond — but there's yet another event on the horizon: another one of Queen Elizabeth's grandchildren is getting married. But after such a busy spring, will Prince William and Kate Middleton attend Princess Eugenie's wedding, or will they stay home to care for their still relatively new baby and take some much-needed R&R?
While the marriage of the woman who falls ninth in the line of succession may not be a big deal to those in the United States (and perhaps even some in her home country), she is still William's cousin, and as such, he and his wife are expected to attend the celebration, although Buckingham Palace has made no formal announcements regarding the guest list. Honestly, though, it would be a little disrespectful if they did; the wedding is about the bride (and the groom, a little bit), not the guests. If you've ever invited someone to a gathering only to have them ask, "Who else is going?" you know exactly what I mean.
Eugenie first met her fiancé, Jack Brooksbank, seven years ago, according to Town & Country, while skiing in Switzerland. Brooksbank works in the "hospitality" field. Translation: he's a former nightclub manager and currently serves as a brand ambassador for George Clooney's Casamigos tequila. Eugenie's mother, Sarah Ferguson (aka the one true Fergie) appears to be a big fan of both her future son-in-law, and the liquor he promotes. "Jack really is a sort of amazing bringer of light and he brings joy," she shared on the BBC's The One Show. And as for the Casamigos: "He'll just hand me the tequila and say, 'Come on, mother-in-law, down it.'"
The wedding will take place at 11:00 AM local time on Friday, Oct. 12. The ceremony is being held at St George's chapel on the grounds of Windsor Castle, the same place where Harry and Meghan Markle, now known as the Duke and Duchess of Sussex, wed earlier this year. While there's no official word on who will be in attendance, it is royal tradition to announce the members of the bridal party just ahead of the big day, which gives us a clue as to the rest of the guest list.
Eugenie has asked her sister, Princess Beatrice, to serve as maid of honor, and the groom's brother, Thomas Brooksbank, will fill the role of best man. If you didn't follow Harry and Meghan's wedding too closely — or any other British weddings, for that matter — you may be unaware that their bridal party traditions differ from American ones. Rather than have a slew of adult attendants serving as bridesmaids and groomsmen, as is customary in the United States, British bridal parties are typically made up of just two adults; the aforementioned maid of honor and best man. The rest of the party consists of young children.
Beatrice's royal (and royal-adjacent) cousins Princess Charlotte, Mia Tindall, Maud Windsor, and Savannah and Isla Phillips will serve as her bridesmaids, rounded out by 6-year-old Theodora Williams, daughter of British pop singer Robbie Williams. On the groom's side Prince George will serve as a pageboy. Given that two of William and Kate's three children are in the wedding, it's hard to imagine that they won't attend, barring one minor wrinkle: Kate's sister, Pippa Middleton, is in the final stretch of her first pregnancy. The exact due date is unknown, but if she goes into labor on Friday, William might be on his own for the reception.