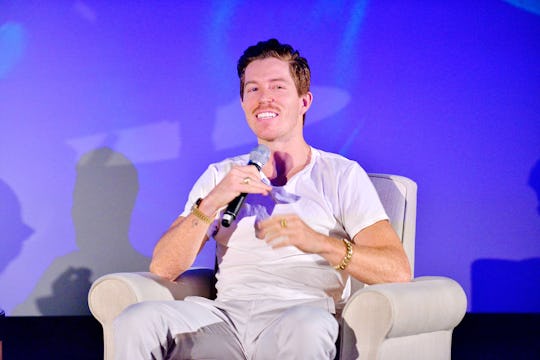 Jerod Harris/Getty Images Entertainment/Getty Images
A Lot Of Eyes Will Be On Shaun White At The Opening Ceremony This Year
Though the events of the 2018 Winter Olympics at PyeongChang begin on February 8, a day before the opening ceremony airs, that ceremonial start still feels like the introduction to the games. There are performances and symbolic gestures, plus a parade of athletes from every competing country. But who can fans expect to see in the crowd? For example, will Shaun White be at the 2018 Olympic Opening Ceremony?
Not every athlete competing in an event actually makes it to the opening ceremony. They are pretty busy at the moment, after all, and there are any number of things that can prevent them from showing up. They might need practice or rest, but if they're anything like me, then they're planning to avoid more time spent out in the cold. But none of that seems to be an issue for snowboarder Shaun White. CNet reported that he would be representing the U.S. during the opening ceremony, along with Lindsey Vonn, Mikaela Shiffrin, and Chloe Kim.
In fact, according to a post on his Instagram account, White is already in PyeongChang ready to get a jump on the Olympic season. He's fielding interviews and practicing, so it seems like he's ready for everything the Winter Olympics have to offer.
This is far from White's first time at the Olympics; it's actually his fourth. He competed for the U.S. in snowboarding in 2006, 2010, and 2014, winning the gold twice during his first two attempts. And he might not have made it to the games this year because of a crash during training that resulted in some significant injuries. According to USA Today, White suffered bruised lungs and facial injuries that required a grand total of sixty-two stitches. But he wasn't going to let that stop him. At the time, he said:
"I was working on a new trick, and as I re-entered the halfpipe, I clipped the top. I flew about 22 feet and hit my face at the bottom, and had 62 stitches and I had some bad bruising in my lungs. My modeling days may be over, but I will definitely be there in 2018 in Pyeongchang for the Olympics."
White made that promise a reality. NBC Sports reported that he scored a perfect 100 during his final run at the U.S. Grand Prix in Snowmass, Colorado, which allowed him to qualify for the 2018 Olympics. That was the second time in his career he'd received a perfect score, and it gave him a needed boost after some less impressive moments in the competition. After that win, White said that he felt like he was "on the right course for the Olympics," especially since the judges at the Grand Prix were Olympic judges.
While still a person to watch at the Olympics, White has faced his own fair share of legal drama recently. Last year, White reportedly reached a settlement with a female drummer that sued him for alleged sexual harassment and breach of contract. Romper reached out to White's reps for further comment, but did not hear back at the time of publication.
Now White just has to do as well at PyeongChang, and it seems like he's hopeful about his chances. He still had some practicing to do, but he appeared to be enthusiastic in an interview with USA Today, in which he said:
"I don't think we've seen my best run. It's not just about one big trick. It's about the whole run. I definitely have a couple things in mind that I've been working on that I'd like to iron out and here's the time to basically do it and try to put it in my run. I'm excited."
The opening ceremony of the 2018 Winter Olympics may be where it all begins, but the most important events come afterwards. The ceremony is a lot of fun but it's also the easiest part (if you can survive those low temperatures, that is), giving athletes a little bit of a respite before the real competition begins.
Check out Romper's new video series, Romper's Doula Diaries:
Watch full episodes of Romper's Doula Diaries on Facebook Watch.