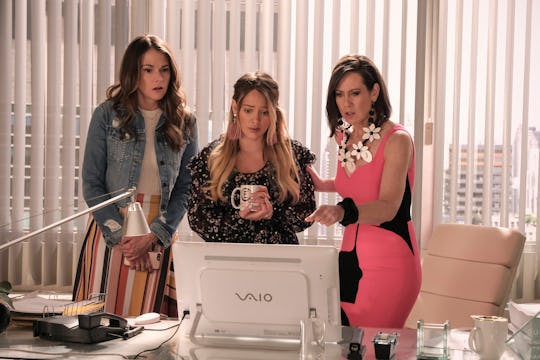 TV Land
Liza May Be Leaving Millennial In 'Younger' Season 5 Finale
The fifth season of Younger is coming to a close, and fans are already wondering what comes next. Will there be a Season 6 of Younger or is this the end of the road for the popular TV Land series? Thankfully, Liza's story will continue.
Ahead of the Season 5 premiere, TV Land went ahead and announced that the show would continue on for Season 6. "Younger exemplifies romantic comedy at its best and each season the show hits new creative and ratings heights," Keven Kay, president of TV Land, said about the renewal, according to The Hollywood Reporter. "We are honored to continue to work with the brilliant Darren Star and this amazing cast, led by the multitalented Sutton Foster. The new season is outstanding and we are thrilled for what's to come for these beloved characters."
Younger is one of the only two original scripted series left on TV Land, along with Teachers, but it is obvious why the network wants to hold on to the show. The series, which began in 2015, began with the simple premise of Liza, a 40-year-old single mom, keeping up the lie that she was 26 so she could get a new job at an ageist publishing company following her divorce. Since then, the show has greatly grown away from that premise, especially since most of the main cast now knows Liza's secret. Instead, the series is much more concerned with Liza's love triangle with young tattoo artist Josh and Liza's established boss, Charles.
Going into Season 5, things were a little awkward on both the Josh and Charles front. Josh had just gotten married even though he had professed his love to Liza the night before the wedding and Charles had called Liza for some reason after his ex returned to his life. However, during the fifth season it became Charles and Liza all the way. Unfortunately, though Liza and Charles are obviously perfect for each other, Liza put a pause on their relationship because of her secret — though in the penultimate episode of the season it seemed Liza had find a solution to all her problems.
Cheryl, who knew Liza's secret, offered Liza a job at Plaza Publishing so Liza wouldn't bring down Empirical (and Kelsey) if and when her secret comes out. Liza thought that was a great idea and was totally ready to take the job, and quickly told Charles about her plan. Well, after they made out. Anyway, Liza told Charles that if he released her from her Empirical contract she could take the job with Plaza and they could be together. A win-win all around.
Naturally, Charles quickly jumped on board with the plan, fired her, and they slept together. However, Liza may have ruined her own plans because Cheryl saw Liza leaving Charles' room and though Cheryl did not do anything with that information during the episode it does not mean she will not at some point. Until then, Liza went to tell Kelsey that she is going to leave Millennial, because she feared Kelsey secretly hated her for all the trouble Liza caused with her secret.
However, Kelsey disagreed and cried, telling Liza that she did not need go and working on Millennial was their thing, something they were supposed to do together. Still, they both agreed that Liza needed to go before things got really bad, and so it looks like Liza may really be leaving Millenial/Empirical during the Season 5 finale. But knowing this show, it will not be that simple, so prepare to be left shocked by whatever the finale has in store.