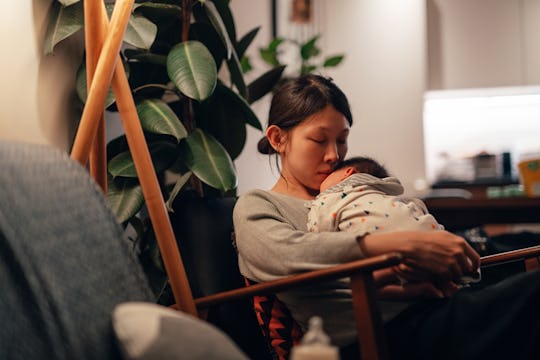 Oscar Wong/Moment/Getty Images
9 Bedtime Mistakes That Are Keeping Your Baby Awake & How To Fix Them
Simple things that lead to more sleep.
Here's the thing: When your baby will start sleeping through the night can be pretty unpredictable. Some little ones are born to snooze while others just take longer to find their (Circadian) rhythm. But if you're in the thick of sleepless nights, it's worthwhile to make sure you're not making any big bedtime mistakes and trying all the sleeping hacks available to put baby to sleep.
When your baby isn't sleeping through the night, or is having trouble drifting off in the first place, it can be frustrating for your friends with excellent sleepers to chime in with, "Have you tried a little cereal in the bottle?" Or, "Are you using a white noise machine?" But maybe one of them will help you find the thing that works, or you'll come across a product that solves your problem that you didn't even know existed. Sometimes, one purchase can really change the game.
Some of the most common bedtime and sleep routine mistakes parents make are simple to fix. Maybe the tip will come from a well-meaning friend or from an article like this. Just keep nodding through the advice and looking up all the things. You're doing great, and your baby will sleep someday.
We at Romper only include products that have been independently selected by our editors. We may receive a portion of sales if you purchase a product through a link in this article.
While none of these products (or any others, for that matter) are guaranteed to get your baby sleeping through the night, they certainly can't hurt. At least if you've covered all your bases — like white noise, room temperature, and safe sleep — you know your baby is sleeping comfortably. One day soon, you will too.