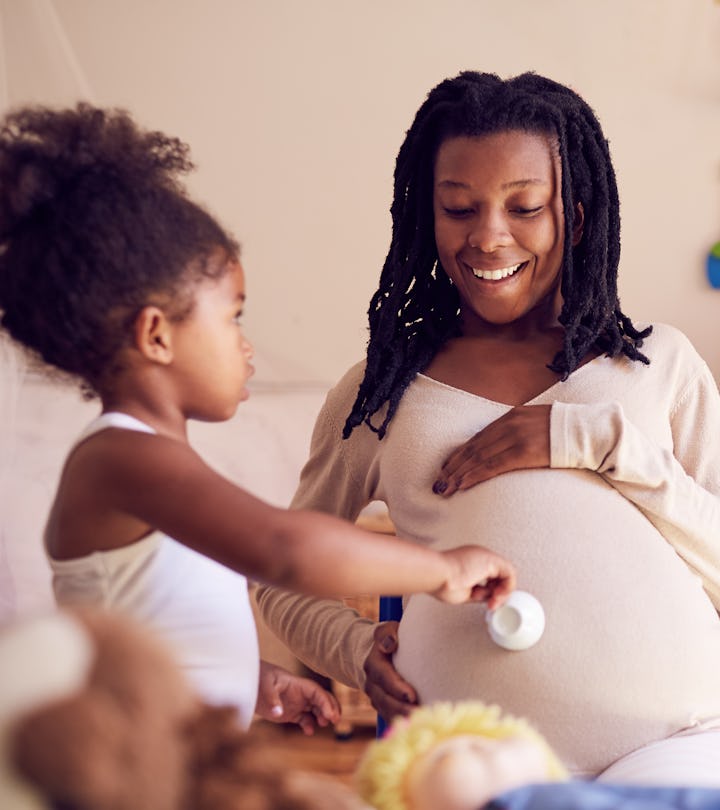 Caia Image/Collection Mix: Subjects/Getty Images
35 Relatable Quotes That Prove Being A Mom Isn't Easy
Being a mom isn't easy, and that is an understatement. What else would you call loving a small human and feeling like your heart walks outside of your body while having said threenager roll their eyes at you? Sometimes when things feel overwhelming, we need to laugh so we don't cry, let it all out, or seek solace in other moms to help us feel like we aren't alone, our kids are "normal" and everything will be OK — these quotes about how being a mom isn't easy will resonate with you on the best and worst days of parenthood.
Whether you're looking for Instagram caption inspo for the snap of the lovely artwork your toddler made on the wall with something brown (please, God, be a brown crayon) or just looking for something inspirational to read while you're feeding your baby (or hiding in the bathroom to cry), these quotes definitely capture how being a mom isn't for the faint of heart. But even on the most horrible days, being a mom can still be a beautiful thing. You got this, mamas!
Funny being-a-mom-isn't-easy quotes
Sometimes when trying to get my 3-year-old out of the house for school in the morning I just look around at the chaos and laugh. Having a sense of humor makes everything better, and reading funny quotes about how being a mom is hard can lighten the mood a bit on a rough day.
"Waking your kids up for school the first day after a break is almost as much fun as birthing them was." — Jenny McCarthy
"I had Luca by myself for a few weeks, no help, when Mike [Comrie, her ex-husband] was on the road, and when he got home I was like, "He's yours! Bye!'" — Hilary Duff
"I'm just a girl, stuck under a sleeping child, with a full bladder, and a dying phone." — Wendy Wisner
"When your children are teenagers, it's important to have a dog so that someone in the house is happy to see you." — Nora Ephron
"Dance like only your kid is watching. Cook like no one will scream they hate it. And sneeze like you won't pee your pants." — Kristin (@shriekhouse)
"A child of one can be taught not to do certain things such as touch a hot stove, turn on the gas, pull lamps off their tables by their cords, or wake Mommy before noon." — Joan Rivers
"The quickest way for a parent to get a child's attention is to sit down and look comfortable." — Lane Olinghouse
"It would help me a lot if any moms would like to share stories of their kids being mean to them." — Chrissy Teigen
"If I'm talking to the 2-and-a-half-year-old and I'm done, I'll just be like, 'We've got to switch. I don't want to talk to this kid anymore.'" — Kristen Bell
"We have rules around the house. I always say if you aren't yelling at your kids you're not spending enough time with them." — Reese Witherspoon
Inspirational being-a-mom-isn't-easy quotes
Need to remember why you wanted to be a mom in the first place? Or just a reminder that things do get better and every day is a new day? I've got you covered with these inspirational quotes for moms.
"When being a parent becomes challenging, don't give up because there are so many rewards that come with it. Love your children and do everything you can to guide them in the right direction." — Mindy Kaling
"You can be a mess and still be a good mom. We are allowed to be both." — Katie Bingham Smith
"When you are a mother, you are never really alone in your thoughts. A mother always has to think twice, once for herself and once for her child." — Sophia Loren
"I think every working mom probably feels the same thing: You go through big chunks of time where you're just thinking, This is impossible — oh, this is impossible. And then you just keep going and keep going, and you sort of do the impossible." — Tina Fey
"Over the years I have learned that motherhood is much like an austere religious order, the joining of which obligates one to relinquish all claims to personal possessions." — Nancy Stahl
"I think being a mom is the hardest job in the world. It doesn't have to be easy but when you love someone that much and they depend on you for absolutely everything then nothing else matters!" — Jennifer Nettles
"Grown don't mean nothin' to a mother. A child is a child. They get bigger, older, but grown. In my heart it don't mean a thing." — Toni Morrison
"Parenting shifts as your kids shift. The best thing for me has been throwing any kind of parenting manual out of the window." — Kate Hudson
"There's no way to be a perfect mother and a million ways to be a good one." — Jill Churchill
Being-a-mom-isn't-easy quotes about sleep
Sleep, or lack thereof, is a very common conversation between moms. Your kid doesn't sleep? Hey! Mine doesn't either. Most of our kids fight sleep like it's their job. You're not alone, and this is one of the tougher things about motherhood — and parenting in general.
"It is truly a blessing. But I'm going to be tired for the rest of my life. When you're up at 3 o'clock in the morning, and they pee on you, you just have to smile." — Wanda Sykes
"I'm a walking zombie and I think I'm going to be like that for a while." — Tiffani Thiessen
"I try to make bedtime sacred, to have some alone time with each kid every night, when it is possible ... except for the nights when it's not possible. I work, and I have a job that means that sometimes I have to go out at night, and sometimes I need to go out at night just for me." —Jennifer Garner
"The first few months with a baby are so disorienting. I felt like my brain was scrambled eggs, and I think it is, understandably, hard to get dressed or even get out of the house ― you have to go easy on yourself. Having prepared foods in the fridge and freezer was essential because thinking about cooking made me want to cry." — Reese Witherspoon
"Without enough sleep, we all become tall 2-year-olds." — JoJo Jensen
"Sleep at this point is just a concept, something I'm looking forward to investigating in the future." — Amy Poehler
"Embrace it. Especially because of the lives we live, a lot of times other people have to care for [our kids] and you have to have that mommy time. Get your sleep!" — Jennifer Hudson
Being-a-mom-isn't-easy quotes about feeding
Not only does it feel like no matter what you choose you can't win when it comes to feeding your children (from birth through teenagers), but it can feel even more frustrating when your child tells you their favorite food is chicken, so you of course serve them chicken for dinner, only to have them tell you it's yucky and they don't like chicken. Picky eaters can be just as frustrating as people telling you to cover up, or people telling you that bottle feeding is less than superior.
"I bottle fed, I breast fed, and before I knew it, they were all eating stale french fries off the floor of the minivan, and I was like, whatever, thanks for cleaning." — Joslyn Gray
"It just occurred to me that the majority of my diet is made up of the foods that my kid didn't finish." — Carrie Underwood
"We all have nipples. I don't care who I offend; my baby wants to eat." — Selma Blair
"Giving birth ain't nothing compared to breastfeeding! Breastfeeding is brutal. It is chronic physical torture. I thought it was supposed to be this beautiful bonding ceremony, where I would feel like I was sitting on a lily pad in a meadow and bunnies would gather at my feet while the fat-Hawaiian-man version of 'Somewhere Over the Rainbow' would play. No! It's not like that at all! Breastfeeding is this savage ritual that just reminds you that your body is a cafeteria now! It don't belong to you no more." — Ali Wong
"There are plenty of healthy foods my kids don't like! I have typical picky eaters, for sure. I would say we're in the camp of not mixing flavors and textures more than we are picky about specific foods. I was the pickiest kid ever when I was little, so I try to stay calm when they turn down something I know they would love — but I'm not always successful." — Jennifer Garner
"As mothers, we don't always get to decide how we feed our babies, it's simply our job to feed them." — Colleen Olson
"My attitude is, if someone sees a little somethin' somethin', don't look if you don't like it." — Kourtney Kardashian
"I feel like a milkmaid, but it is worth it." — Miranda Kerr
"Them: What's parenthood like? Me: I spent my Saturday evening picking every bit of parsley off dinner so tiny people stop crying is what it's like." — Karen Johnson
See? You're not the only mom wondering when you'll enjoy a Saturday night again without worrying about the well being of everyone else in the family. Being a mom is definitely hard, but knowing I'm not alone in this strange club called motherhood totally makes it easier to pick myself up off the crumby, sticky floor, and face another day. The truth is, I'll probably get a sticky kiss or a brief, sweet smile from the threenager, and I'll feel like a winner.