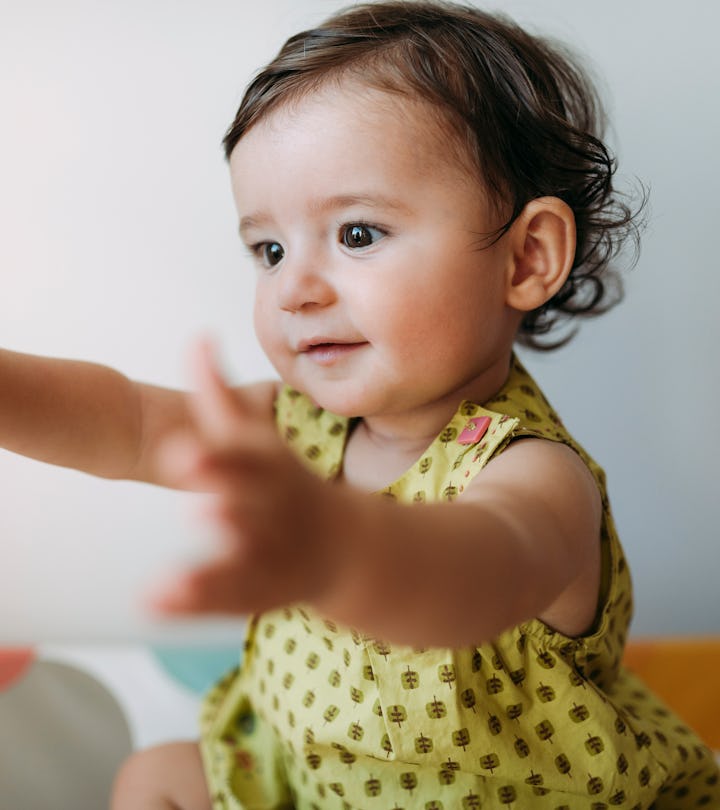 WestEnd61 / Getty images
40 Best Toys For 9-Month-Olds You Can Buy On Amazon Right Now
Out with the rattles, in with the stacking cups.
If you're a first-time parent shopping for new toys for your baby, it's hard to know what's worth your money. Or, if your friend has a wee babe and you're just trying not to kill your house plants, maybe you need a little guidance on where to find the best toys for a 9-month-old baby. They're not yet running across the lawn, and they're likely no longer a newborn-like babe. These toys hit the sweet spot in between and are designed for babies who can sit (maybe even stand) on their own and can be enjoyed while playing in one place. Some might even help or encourage baby to take their first steps.
What to look for when shopping for toys for a 9-month-old
When buying toys for your baby, no matter their age, it's a good idea to think about the developmental milestones they're working on and choose toys that will help them build those skills. Per the Centers for Disease Control and Prevention (CDC), between 9 and 12 months of age, babies may be:
Pulling up to stand
Walking while holding onto furniture, also known as cruising
Looking for things that are hidden or placed out of sight (hello, object permanence)
Taking an item in and out of a container
Picking things up with their thumb and forefinger, which is called a pincer grasp
"Nine months is a really important age where, if they aren't already crawling, they'll be getting on hands and knees," said Amanda Phillips, PT, DPT, physical therapist at Children's of Alabama, in an interview with Romper. "Classic toys are always good, like blocks and stackable cups. Babies love to put things in and out, bang things together, and swap things from hand to hand, and blocks and cups are easy to manipulate. Balls are great too because they can hit them away and that can possibly motivate them to crawl."
Phillips added that at 9 months of age, most babies still taste test everything, so choose toys that are safe to put in the mouth. She said to consider music toys that light up when hit to teach baby cause and effect, and bath toys for playtime in the water. She also cautioned parents to steer clear of a few popular toy options.
"We usually encourage families to stay away from walkers and jumpers because it's not the right kind of movement. Push toys and activity centers are better. Even before they're standing they can use these sitting and in a tall kneel, up on their knees with their butt off the ground," she said.
So, since your little one will most likely want to spend their time practicing these skills, why not choose toys that help them along? There are options in this list for the most dedicated Montessori moms and the parents who are perfectly fine with plastic singing gadgets. Even if you opt for a toy that's just plain fun, that's important for babies too.
We only include products that have been independently selected by Romper's editorial team. However, we may receive a portion of sales if you purchase a product through a link in this article.
There's a good chance the baby you're buying for will love any toy in this list. If you're still shopping for the perfect gift, just keep those 9-month milestones in mind so they can learn and play.
Source interviewed:
Amanda Phillips, PT, DPT, physical therapist at Children's of Alabama