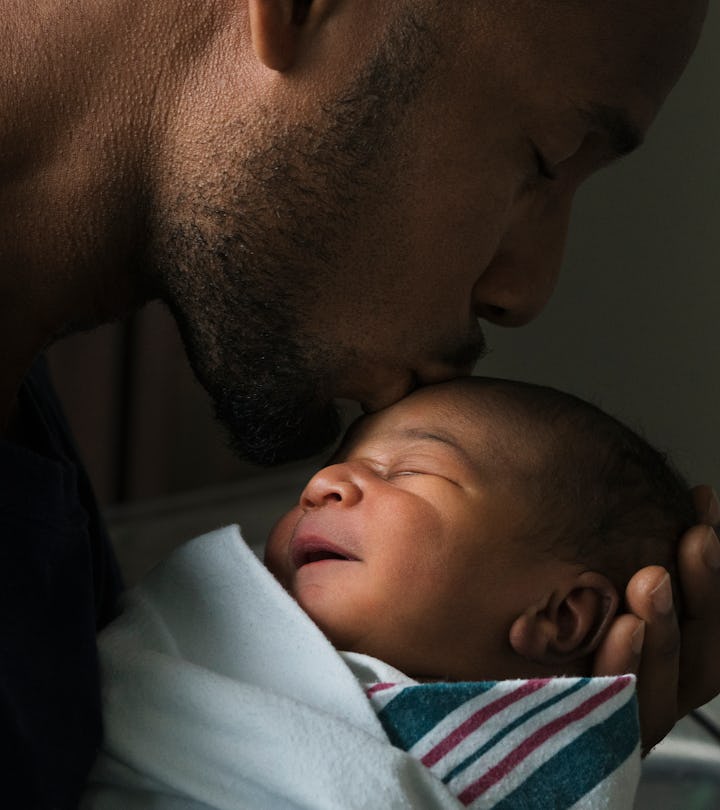 Ariel Skelley / Getty
From One Black Father To Another, This Is What Our Sons Really Need From Us
The authors of "Black Boy, Black Boy" share their insights and wishes for Black sons and fathers.
As co-authors of the beautiful and inspiring forthcoming picture book Black Boy, Black Boy, Ali Biko Sulaiman Kamanda and Jorge Redmond have a lot to say about raising Black sons. For Father's Day, the authors wrote two special pieces for Romper; the first piece is a letter to Black sons, the second is a poem written for Black fathers. Together, they're called "Thoughts for a Father and Letter to a Son."
Letter to a Black son
Dear son,
Being your father is my life's purest joy. From the moment I saw you my heart skipped a few beats, overwhelmed with happiness as I gazed on your sweet face. All I wanted was to hold you tight, shielding you from the unknown in the days and years ahead.
My son, this world that I give you is fierce but wonderful. It's ugly, beautiful, chaotic, peaceful. It's a world that is so many things but most important of all, it's a place that needs you in it. Your tempered spirit, infectious joy and bold optimism will light up any darkness that you will certainly face. Your passion for life and graciousness towards others will inspire those around you to champion what is best in themselves. You will be a force for good, my Peacemaker-Defender of Truth and Guardian of Justice. make it sound like you're a superhero because you are one! Your power comes from within, defined by the choices you make each day. Trust your inner voice and always believe in yourself.
There will be days that overwhelm you and realities that frighten you, but don't be overcome. Be steadfast in your faith, rest assured that you were born with purpose. Don't worry your young mind with trying to figure out that purpose, not now. You will have plenty of time to discover it along your life's journey. For now we'll focus on creating precious memories that will last your lifetime.
We'll bake cookies and cakes, tell stories by the fire under the glow of moonlight. We'll spend time together, my son.
We'll spend time hiking mountains, biking trails, camping in forests, fishing in lakes.
We'll adventure to far away places, meet new people, learn new languages and experience different cultures.
We'll shoot hoops in the driveway and play soccer in the backyard. We'll dance around sprinklers on hot summer days and dig out igloos in snowstorms.
We'll bake cookies and cakes, tell stories by the fire under the glow of moonlight. We'll spend time together, my son.
I am truly blessed to be a part of your life. Out of all the dads in the world, I belong to you and you to me. Welcome to Today. You are king of our tomorrows and a keeper of memories from our yesterdays. I may not always be with you my dear boy, but as my father told me and my grandfather as well, I promise to love you for all of my days.
Be bold in your existence, be unapologetically you.
Love,
Daddy
Raising a Black son
Color is a name, a likeness, an image.
A perception that comes with stereotypes and expectations.
The eyes of the world look upon your son,
In a way that does not grant him a privilege.
Don't buy him Jordans in exchange for your absence.
Your presence is more valuable.
He needs your example as a reference and blueprint
On how to be a man when he comes of age.
Using intellect to fight instead of a gun,
Teaching life's lessons and navigating society's implicit biases,
Creates an inspiration and understanding of ones worth,
A dream of infinite possibilities for a Black son.
There's more to life than athletic fame.
Academic inequities and moral indecisiveness,
Are more likely to have him end up on the wrong track,
When success is more than just a ball game.
Treasure this unique opportunity,
To mold and sculpt a Black boy to value life's existence.
Stand tall, look them in the eyes, and give a firm handshake,
Is great advice that comes with important responsibility.
Always be his biggest fan. Always!
Whatever path your son chooses to take,
Coming off that pedestal to give an embracing hug
Shows compassion and emotion which will help him become more of a man.
Teach him to respect women.
He may not always agree with members of the opposite sex,
But listening allows for empathy and grace towards devotion,
In understanding that women are capable of making their own decisions.
You're a role model, like it or not.
Be mindful of the things you say and do.
Eyes and ears are always watching,
Don't show up out of the blue and expect that love can be bought.
Raising a Black son comes from the heart.
The dedication, love and support you show
Isn't sometimes, or whenever you feel like it,
It's constant and it must be unconditional.
Love your son in each and every way.
Changing diapers, reading books, spending time with your son,
Creates a bond that will transcend time
So when he's a dad, he'll be honored on Father's Day!