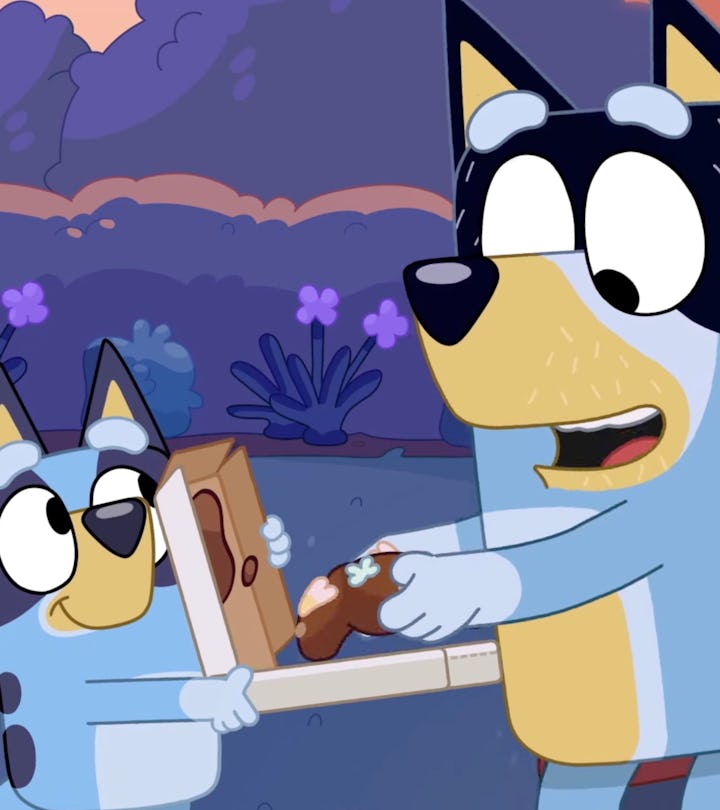 Disney+
16 Fun Games From Bluey You Can Play With Stuff You Already Have At Home
It's hard to Keepy Uppy with your kids; this list is here to help.
Just like America runs on Dunkin', Bluey runs on imagination. It's the rare kids' show that entertains children and adults in equal measure, and it focuses on sending heartfelt messages that foster empathy and creativity. As someone who became a new mom in the middle of lockdown, Bluey was often my lifeline to decency and goodness in a world that seemed to be falling apart. As I watched the episodes with my daughter, I found myself making a mental list of all the Bluey games we would be playing as she got a bit older.
In case you haven't yet seen the miracle that is Bluey, the four succinct words of the theme song sum it up perfectly: Mum! Dad! Bingo! Bluey! The Heeler family consists of a dad named Bandit, a mom named Chilli, and their two daughters: Bluey, age 6, and Bingo, age 4. They live in Brisbane, Australia and, oh yeah, they're dogs.
Bandit and Chili are paragons of parenting excellence as they seem to have endless patience to enthusiastically engage in pretend play with their young kids. Honestly, all young kids want to do is be seen and heard by people who love them. Bluey knows this, and the series showcases all sorts of games that are doable for almost anyone that has access to a safe space for play.
Lots of Bluey games are attractive to kids, but not all of them are super fun for adults as well. Games from Bluey like "Ticklecrabs" and "Dance Mode" — both featured in Season 2 — are kind of a nightmare for Bandit and Chili. While they put on their game faces and play anyway, they seem to prefer slightly more low-key outings. "Me too," said every tired parent in the universe. So, for the sake of our adults-entering-year-two-of-lockdown sanity, we've compiled a list of all the best Bluey games that are palatable to both kids and adults. Many of them even involve lying down, chilling out, and letting the kiddos do all the work.
One of the most wonderful things about the games from Bluey is that they often don't require anything but a few simple items, engaged participants, and a boundless imagination. Looking for something to do with your kids? It's time to shout "Hooray!"
Below, we've listed the best Bluey games that you can play right now with the stuff you have right now in your very own home.
Kids learn about the world through play, and these games from Bluey are sure to provide endless hours of entertainment and excitement. The next time you crack out one of these ideas, your Bluey-loving children are sure to shout out a "for real life?!" before you dive into your next adventure.
This article was originally published on