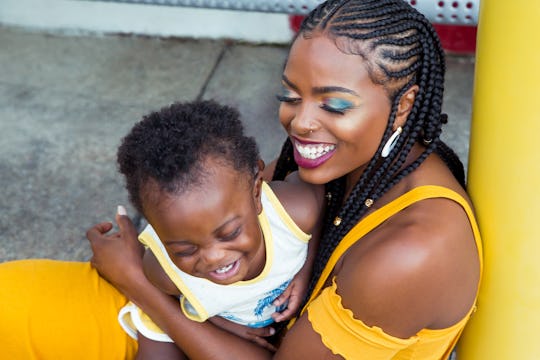 Jena Ardell/Moment/Getty Images
Here's What To Talk To Your 2-Year-Old About (Besides Peppa Pig)
Even if they don't have a ton of words yet, the effort is worth it. (And hilarious.)
Let's face it, trying to have a real talk with a 2-year-old can sometimes be a challenge (albeit a humorous one). If you're looking for some ideas for conversations with your 2-year-old in an effort to strengthen their language development, you've come to the right place. Before you know it, the nonstop chatter phase will hit (hard), and you'll never be at a loss for words again (you'll be too busy answering questions about urgent matters like why stoplights are red).
Your toddler might not be speaking in full sentences just yet, but that doesn't mean they aren't listening to everything you say and storing that information away. Feel free to talk to them like you would any other older kid, using full sentences and steering away from baby talk. They probably understand more than you know!
Regularly talking to your 2-year-old, even if their speech back is limited, can help them develop their language and get them talking more later on when they're able to. Don't feel limited to the obvious hot button issues for tots (Peppa Pig, ice cream). Try these easy conversation starters and see where they take you.
This article was originally published on