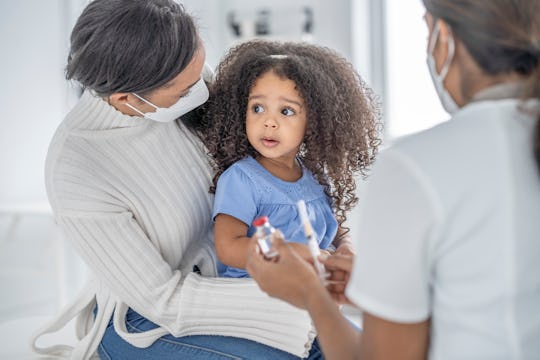 FatCamera/E+/Getty Images
Covid Vaccines Are Approved For Children Under 5
The eagerly awaited decision will open up vaccination to the youngest Americans.
After years of anxious anticipation, children under the age of 5 are eligible for a Covid-19 vaccine. The approval of a three-dose Pfizer-BioNTech vaccine and a two-dose Moderna vaccine came down after deliberation from the Centers for Disease Control and Prevention (CDC) based on the recommendation from the Food and Drug Administration (FDA) as well as its own expert panel. The FDA, which posted its findings on the safety and efficacy of the three-dose vaccine on June 12 made its decision based on the recommendation of a panel of independent vaccine experts, who voted after an all-day meeting on June 15. This decision opens up the possibility of vaccination to 18 million more Americans. Up until now, children under 5 were the only age group still ineligible for a vaccine.
The Emergency Use Authorization (EUA) approval for the Pfizer-BioNTech vaccine had been delayed several times over the past few months, prompting frustration from parents of infants, toddlers, and preschoolers keen to protect their children from the worst of the the coronavirus. Pfizer researchers were concerned that, in the presence of the Omicron variant, their original two-dose vaccine would be insufficient to protect young children. However, the now three-dose vaccine has been shown to boost virus-fighting antibodies and is 80% effective at preventing symptomatic Covid, according to Pfizer's findings, though the number of children in their study who contracted the virus at all – just eight in the placebo group and 2 among children receiving the vaccine – warrants further study.
The Moderna vaccine for children 6 and younger was also approved. Just two doses, this version of the vaccine could immunize children more quickly, though appears to be somewhat less effective at preventing symptomatic infection. (It should be noted, however, that both vaccines meet the FDA and CDC thresholds of efficacy.)
The Biden Administration has already ordered doses of the vaccines in anticipation of their approval and anticipate that children can begin receiving the jab as early as this week. Though the question remains how many parents will ultimately opt for vaccination: a recent survey conducted by the Kaiser Family Foundation found that while 18% of parents were eager to get their child under 5 inoculated "right away," 38% say they will take a "wait and see" approach to further ensure safety and efficacy. More than a quarter, 27%, say they will "definitely not" opt for vaccination.
While the newly eligible age group represents a low percentage of total Covid cases, just over 3%, according to data analyzed by the FDA, children between 6 months to 4 years old are more likely than older children to suffer severe illness and hospitalization. In fact, from mid-December 2021 to earl-May 2022, when the Omicron variant was predominant, children 6 months to 4 years accounted for 24% of Covid-19 associated ICU admissions among children 6 months to 17 years.
There have been at least 202 deaths attributed to Covid-19 among children 6 months to 4 years since the pandemic began. While this number is low overall, it's encouraging to know that this approval could mean it doesn't get much higher moving forward.