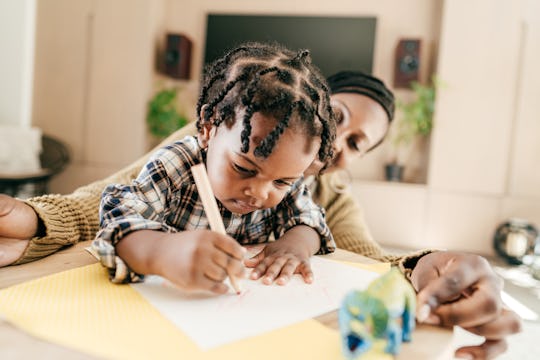 kate_sept2004/E+/Getty Images
9 Fun Facts About Those Perfectionist Virgo Babies
You're dealing with a helpful, detail-oriented child (who may be a perfectionist).
If your baby was born between Aug. 23 and Sept. 22, then, lucky you, you have a Virgo baby on your hands. If you're looking to glean a bit of insight into your child, these facts about Virgo babies and kids highlight some of the best qualities of the sign. Of course, there are some not-as-fabulous qualities to note — a tendency toward perfection and possibly criticism of themselves and others among them — but the more you learn about their personality, the better you can connect with your Virgo baby.
In an effort to illustrate the opinionated nature of the Virgo, I just asked the Virgo who lives in my house (aka my husband) to help me think of something he has strong feelings on and he responded, "I mean, I have a lot of strong random opinions," which I personally think sums up the Virgo personality better than any anecdote could. Rest assured that while your Virgo child may be (extremely) quick to share their likes and dislikes, they'll also always be down to help you organize the garage or dive into spring cleaning.
While it's hard to say that these Virgo facts are definitely the result of the zodiac, and there's usually a pretty good reason why people of the same sign share certain traits (exposure to sunlight in the womb, for example, or how old they are compared to other classmates), it's still fun to learn a little about the parts of your child that make them a Virgo through and through. Here, Kyle Thomas, pop culture astrologer for the New York Post and Page Six breaks down some fun facts about Virgo children and babies for Romper.
Whether you believe that personality is written in the stars or you just like the fun of the zodiac, these facts about Virgo children may just help you gain a deeper understanding of your child (and at the very least you'll know who to call on when it's time to organize the spice drawer or help you cook an elaborate dinner).
Studies referenced:
Erbas B;Lowe AJ;Lodge CJ;Matheson MC;Hosking CS;Hill DJ;Vicendese D;Allen KJ;Abramson MJ;Dharmage SC; (2013). Persistent pollen exposure during infancy is associated with increased risk of subsequent childhood asthma and hayfever. Clinical and experimental allergy : journal of the British Society for Allergy and Clinical Immunology, https://pubmed.ncbi.nlm.nih.gov/23414542/
Vassallo, M., Banerji, A., Rudders, S., Clark, S., Mullins, R., & Camargo, C. (2010, April). Season of birth and food allergy in Children, https://www.ncbi.nlm.nih.gov/pmc/articles/PMC2941399/
Natale, V., Adan, A., & Fabbri, M. (2009, March). Season of birth, gender, and social-cultural effects on sleep timing preferences in humans, https://www.ncbi.nlm.nih.gov/pmc/articles/PMC2647797/
Dhuey, E., Figlio, D., Karbownik, K., & Roth, J. (2017, August 14). School starting age and cognitive development, https://www.nber.org/papers/w23660
Sources interviewed:
Kyle Thomas, pop culture astrologer
This article was originally published on