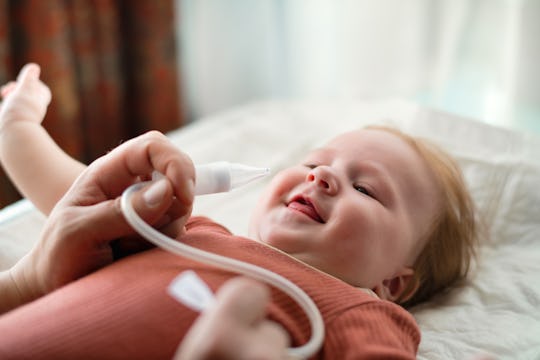 ArtMarie/E+/Getty Images
20 Weird But Genius Health & Beauty Tools For Babies
No more Desitin under your nails? Life-changing.
When you're pregnant or shopping for an expecting friend, it's overwhelming to look at baby registry recommendations and try to predict exactly what you'll need. Once you're a few days or weeks in to having your baby, you may realize there are some tasks that should just be easier — like, why is putting on diaper cream so messy? Luckily, there are plenty of health and beauty tools that are designed to make some of the yuckier parts of parenthood a little better.
If you're a new parent, congratulations, and also, welcome to the world of doing things you never dreamed you would. Take, for example, sucking the snot right out of your baby's nose, or gently plucking a little piece of ear wax from their tiny ear. Tasks like this are so much easier when you have some of the latest and greatest tools on hand.
Even veteran parents can find something in this list that will make them say, "Where has this been all this time?" While you can never get back all the time you've lost to wiping Desitin off of your hands (and everything else within three feet of the changing station every time you take the lid off that stupid jar), you can find some simple gadgets on this list that'll help you keep the cream right where you want it for a change.
We may receive a portion of sales if you purchase a product through a link in this article.
Which of these baby health tools will you be adding to your bathroom cabinet? Chances are you (and any parent, really) would relish the idea of never getting Aquaphor all over your hands again, letting your sick kid sleep while still knowing their temperature, and knowing the bath water is always juuust right.