Hello From The Other Side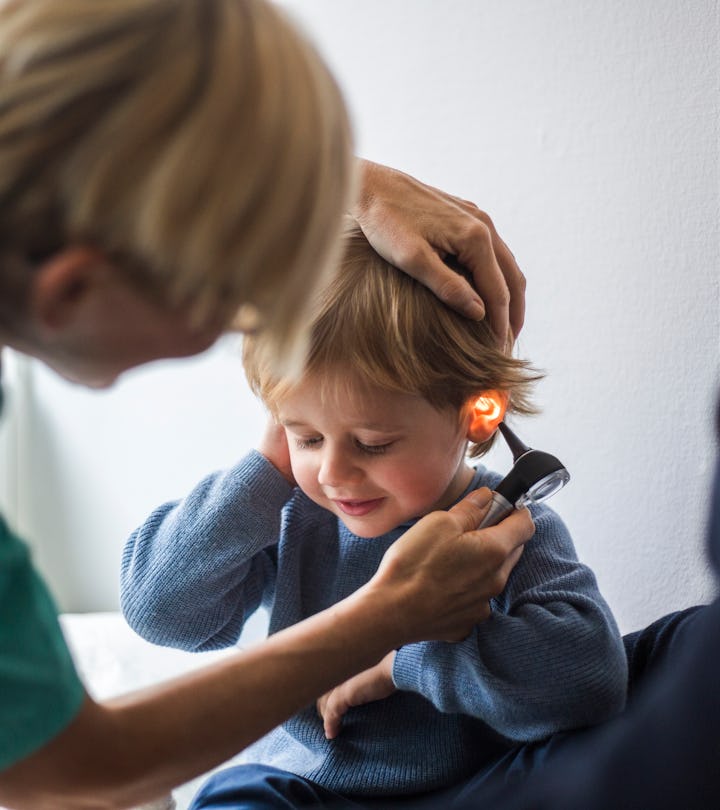 Maskot/Getty Images
How Does Behavior Change After Ear Tubes? Moms & Doctors Explain
Yes, you really can tell they feel better.
Ear infections hurt. All that inflammation and fluid buildup is painful, and imagine being a toddler, trying to learn how to speak and communicate, but having your hearing muffled by, well, you don't even know what. So when your child becomes a candidate for ear tubes and you start chatting with other parents about them, you might start wondering, how does behavior change after ear tubes? So many parents will tell you their child acted totally different after getting relief from ear infections. Is that true, and what exactly does it look like?
My son was a few weeks from turning 2 when he got his ear tubes. Since starting day care, he'd had six ear infections in a year, and all but one required Rocephin, an antibiotic injection series, to treat. Once his procedure was scheduled and we began talking to other parents about it, we started hearing the same thing over and over again. "He's going to be a different kid." "Oh, my baby was so much happier after tubes." Our little guy was generally pleasant, albeit quick to irritate, but wasn't that normal for a toddler? He was on track developmentally for speech and passed his pre-op hearing test, so we didn't think his ears were having much impact on his talking either.
But lo and behold, after he woke up from surgery and we got home, he ate the biggest meal we'd seen him eat in months (we call him an air plant, he needs such little sustenance). He played happily by himself for long stretches, when before he always wanted a parent right next to him. He was far less irritable, even, dare I say it, chill. And he started stringing together sentences quickly. Two weeks post-op, he was saying things like, "Oh no, Coopie fall down," and "I luh-yoo, Mama."
Romper spoke with pediatric ear, nose, and throat surgeons (ENTs) about what parents can expect after ear tube surgery, and with real moms who saw major transformations in their own children.
How does behavior change after ear tubes?
Moms and doctors agree: whether big or small, you're probably going to notice some changes in your toddler's demeanor and development after getting ear tubes (aka myringotomy tubes, tympanostomy tubes, or T tubes — they have a lot of nicknames). The tubes are placed through the ear drum and allow any fluid trapped behind the ear drum, where infections typically fester, to drain out of the ear, experts say.
"By placing the tubes, the pressure in the middle ear is relieved, and the fluid is drained," says Dr. Audie Woolley, medical director of the cochlear implant program and clinical associate professor of surgery and pediatrics at Children's of Alabama. "This greatly reduces pain, improves hearing, and if a child's speech has been affected or delayed from either recurrent ear infections or persistent fluid with hearing loss, the removal of the fluid and infection will improve the hearing and should lead to improvement of speech."
Naturally, less discomfort and clearer hearing make for a happier kid. "Parents often say, 'My child is a different child.' When they say that they usually mean that they're a better child, that they're happier. And when you look at the data on this, it turns out that both a child's quality of life and a caregiver's quality of life go up to a significant degree when a child has had ear tubes," says Dr. Soham Roy, MMM, FACS, FAAP, chair of pediatric otolaryngology, head and neck surgery at Children's Hospital Colorado, and professor and vice chair of the department of otolaryngology at the University of Colorado School of Medicine. "What happens is they're suddenly relieved of the discomfort of ear infections, or if they have chronic fluid buildup, that can be uncomfortable and cause hearing and communication issues. When you relieve those issues and then suddenly kids can hear better, they can communicate better; I think it really does relieve their stress and frustration."
With our son, we noticed immediately after his surgery that he was happier to play around the house on his own. And instead of getting upset about odd things, like the dog entering the room, he just... kept doing his thing, playing choo choos on the floor.
Do kids hear better after tubes?
In short, yes. There is a small population of children who can have fluid buildup in their ears, but whose hearing isn't impacted, Roy says. But for most children with tubes, he says draining the ear fluid makes at least some positive difference in hearing.
"The process of draining that ear fluid, it really maximizes a child's potential for hearing. And that seems to really allow them to develop better speech and languages," Roy says.
So, if you've wondered, does speech improve after ear tubes? The answer to that question is usually also a resounding yes. "As you've noted, your son started speaking in sentences, that's probably not a coincidence. I think being able to optimize and fully maximize a child's hearing potential is a big step forward for them in developing speech and language. Usually that fluid in the ear does have at least some type of impact."
"My oldest son suffered recurring ear infections as a baby and toddler, and his speech development was slow," says Dr. Stanley Spinner, chief medical officer and vice president of Texas Children's Pediatrics and Urgent Care. "But by age 3, we put tubes in his ears, and within 24 hours he started talking and never stopped. If there is a delay in hearing or speech as a result of this persistent fluid in the middle ear, putting tubes in, in most cases, will have a significant and quick impact on that. Almost immediately hearing improves when the tubes go in. Speech in many cases will take some time to improve, but you'll see that happen."
What are the benefits of tubes in toddlers?
Tubes are used to treat recurrent ear infections, provide relief to little ones with chronic fluid buildup behind the ear drum, or both, says Roy.
"The benefit of receiving myringotomy tubes will be a substantial decrease in the number of ear infections," says Woolley. "If infections still occur after tubes are placed, fluid and pressure will not build up as the infection will drain out of the ear, and this prevents hearing loss and reduces pain and fever."
And if your toddler gets an upset stomach from all those antibiotics, ear tubes let you avoid using them if they do get an ear infection again. "The other major benefit of tubes is that tubes provide an opening into the middle ear. Topical antibiotic ear drops can be used to treat an ear infection, avoiding the dangers and complications of the overuse of systemic antibiotics," Woolley explains.
What to expect after ear tube surgery in toddlers
After the surgery, your child will wake up from anesthesia in a recovery room, and you'll go back to be with them. Roy says most toddlers getting ear tubes receive anesthesia via a breathing mask, which wears off quickly — this was our experience, and our son was back to his normal self within an hour post-op. Kids having additional procedures at the same time, like getting their adenoids out, will receive general anesthesia, and will likely be groggy for longer.
"Post op care is minimal," says Spinner. "There may be some antibiotic drops you instill for a few days and a little discharge, and generally that's the extent of it. There's no pain usually, they're just coming out of the anesthesia."
How long before you notice behavioral changes? Kristal Fuentes' son Hendrix got ear tubes when he was just over 18 months old. He'd had six ear infections in six months after starting day care, and his mom says he was saying only "Ma" and "Da," which concerned her. For Hendrix, there were immediate and long-term changes after getting tubes.
"I distinctly remember him waking up from his post-anesthesia nap at home, and I could tell he could hear the world differently," says Fuentes. "He was babbling in a different way, and he could hear himself differently. After six weeks or so, his communication skills drastically improved. He was just… talking. He was able to actually communicate with us, when before he was always really frustrated he couldn't communicate with us and probably couldn't hear us."
"Literally the morning he came out of the procedure is the best mood I've ever seen him in in his entire life. More than personality for him, we're watching for balance and speech stuff," says Jessica Brinson. Her son, Remy, got ear tubes a few months before turning 2. "He seemed like he was tracking developmentally on speech, but it seems like he's really having a burst now. It's hard to parse out of that what was coming anyway, but that I've noticed in the last week he's really repeating back what you say."
How your child's behavior changes after ear tubes will be unique to them. Whether you notice drastic differences in their demeanor, or subtle changes to their speech, doctors and parents agree: ear tubes make kids with chronic ear infections feel better. And when you feel better, it shows.
Experts:
Dr. Audie Woolley, medical director of the cochlear implant program and clinical associate professor of surgery and pediatrics at Children's of Alabama
Dr. Soham Roy, MMM, FACS, FAAP, chair of pediatric otolaryngology, head and neck surgery at Children's Hospital Colorado, and professor and vice chair of the department of otolaryngology at the University of Colorado School of Medicine
Dr. Stanley Spinner, chief medical officer and vice president of Texas Children's Pediatrics and Urgent Care