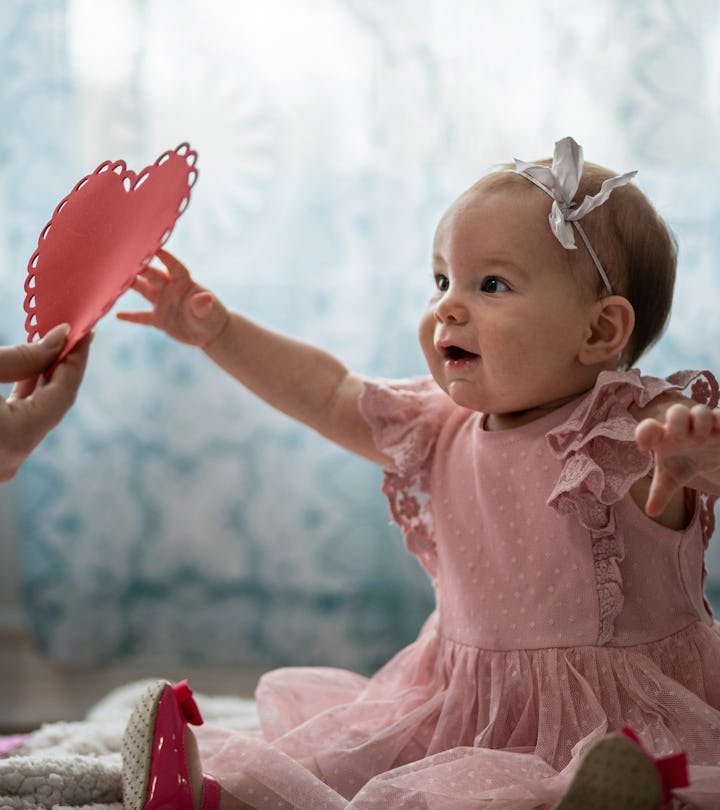 FatCamera/E+/Getty Images
How To Celebrate Baby's First Valentine's Day, From Gifts To 'Fits
While you're at it, have a little photoshoot.
We may receive a portion of sales if you purchase a product through a link in this article.
The first Valentine's Day that comes around after having a baby is extra sweet (as if you needed an excuse to kiss those cheeks any more than you already do). If you're wondering how to celebrate baby's first Valentine's Day, rest assured there are plenty of gifts, outfits, and more that will help you make their first holiday feel special for you both. And listen, if you have a newborn, are totally sleep-deprived, and not even sure when Valentine's Day is, there's no pressure to celebrate.
If you do feel like having a little holiday fun with your little one, start by choosing a something sweet to give them, like a candy-themed bib or heart-shaped teether. Every Valentine deserves a treat, right? Next, choose the perfect outfit for your day of snuggling at home, or something a little snazzier for photos. You'll definitely want to take (and share) pictures of your baby all dressed up for their first V Day.
Gifts for baby's first Valentine's Day
When you're used to buying chocolates and flowers, thinking up Valentine's Day gifts for kids is quite the change of pace. There are tons of toys, blankets, stuffies, and Valentine's Day books that are perfect for babies of any age.
Outfits for baby's first Valentine's Day
Whether you're heading somewhere special or nowhere at all, why not deck your littlest Valentine out in something sweet? These Valentine's Day outfits are perfect to wear while playing, napping, and stealing hearts.
Photo ideas for baby's first Valentine's Day
You don't have to go all out and book a photographer — or even leave the house — to take some special photos of baby's first Valentine's Day that you'll treasure forever. Use a few simple props you can find on Amazon, in the Dollar Spot at Target, or stashed in your own holiday decorations. Actually, you may only need some lipstick.
Do you own a letterboard? Pop a short and sweet message on it and place it next to your baby, along with any other decorations, like a garland, paper hearts, or rose petals. Then, just stand back and snap away as they giggle and play with all the shiny things you've laid around them.
If you have a pink or red lipstick, swipe some on and smooch your little Valentine all over. Then, lay them on a soft blanket that makes them the focus and take some pics. Whether you're a proud parent of one new baby or your little one has older siblings, you can get as many kids in on this photo as you want (but you may have to reapply a few times to cover them in all kisses).
Cut out a few small hearts from red construction paper or felt, and lay them carefully around your slumbering baby for a serene Valentine's Day photo. Or, if you don't want to risk disturbing them during nap time, let them play with the hearts when they wake up and snap your photos then.
Instagram captions for baby's first Valentine's Day
If you're going to take the cutest pictures ever of the sweetest Valentine ever, well, you're basically obligated to post them on social media. Think of it as a public service. These Instagram captions for baby's first Valentine's Day will capture the love and chubby cheeks perfectly.
Way cuter than Cupid.
Who knew all those Valentine's Days I was just waiting for you.
Stealin' hearts and rippin' farts.
"Here's looking at you, kid." — Casablanca
My hands are full, and my heart has never been fuller.
This year, we only have heart eyes for you.
How will you celebrate with your baby this year? No matter what you do, take some time to create a special memory for your little family.