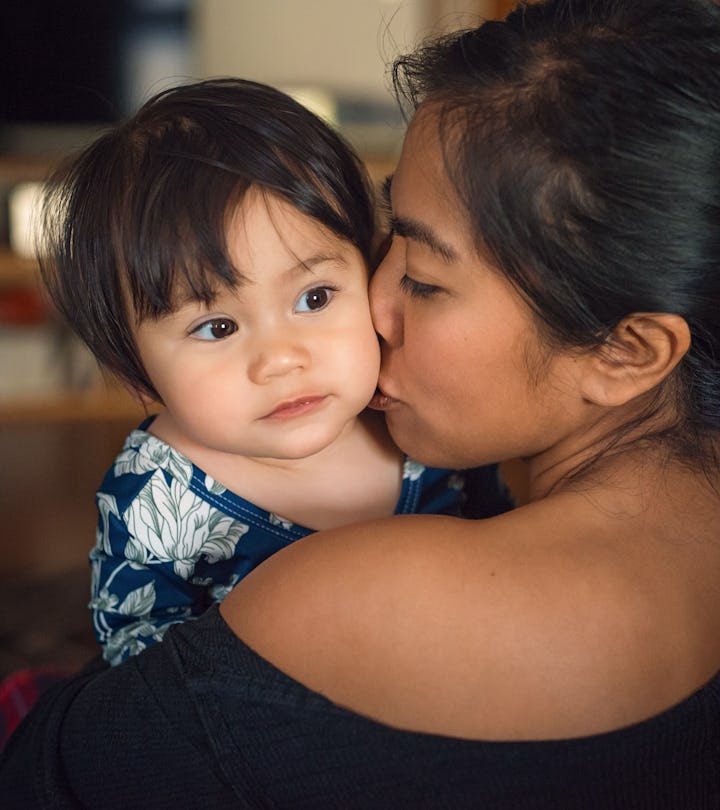 Layland Masuda/Moment/Getty Images
17 Perfect Insta Captions For When Baby Says "Mama" For The First Time
The first time a mom hears their baby say "mama" is a momentous day. Baby talk (which usually seems to start with a baby saying "dada," tbh) completely changes the parent/child relationship from a one-sided conversation to two. So you need some great Instagram captions for when baby says "mama" for the first time to consider.
There's the "aw, shucks" approach with a sweet sentence about how meaningful a baby's sudden vocalization is. Or there's the more silly route to take. Why not make a baby's first time saying mama as a time to have a laugh? I mean, what a time to be alive?! Kids are learning to talk! Next thing you know they'll be wanting to borrow the car keys and $20, right?
One way to capture a baby's first time saying mama in an Instagram caption is with a play on words or rhyme with mama in it. And there are plenty to choose from, too. Just consider all the songs, sayings, and stories that have the word mama. Perhaps the best way to share and savor the memory of the sound of the first time a baby says mama with an Instagram caption is to get a video. So have your phone handy and your Instagram app open to share with all the friends and family you know.
Consider all of the feelings you're feeling upon hearing your baby say "mama" for the first time and you'll surely know the perfect thing to write in an Instagram caption memorializing this momentous occasion.