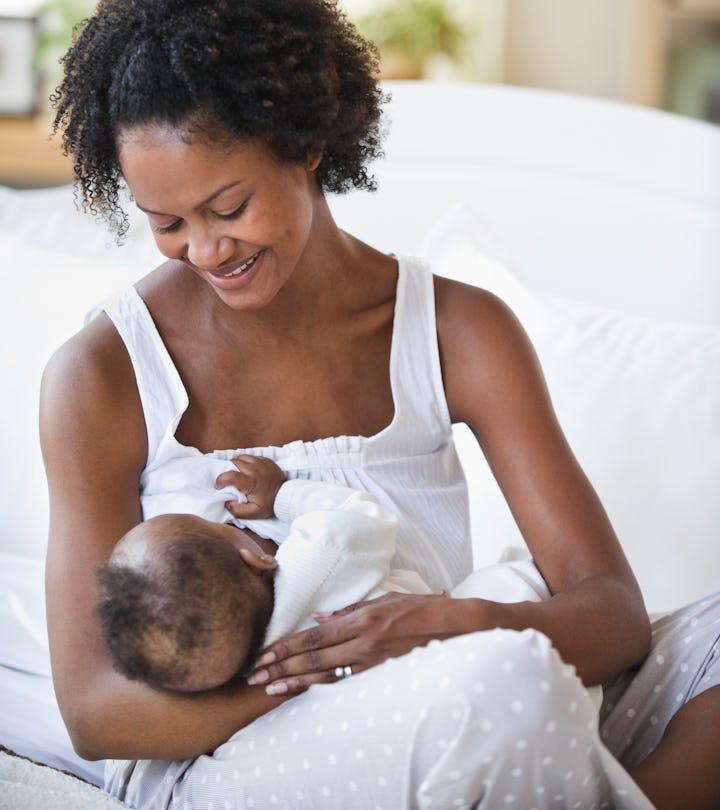 SelectStock/Vetta/Getty Images
The Best Nursing PJs & Lingerie Under $40 From Amazon
You don't have to splurge on something you'll wear temporarily.
After you have a baby, not only are you recovering from the entire pregnancy and birth process, but you're tasked with taking care of a newborn baby's every need — which might likely include breastfeeding. Comfy postpartum pajamas are a must for nursing moms, even months after giving birth. But sometimes, instead of basic loungewear, you want a pretty pattern, a bit of lace, or even — dare I say — something sexy? This list of nursing lingerie has it all. From nursing PJ's that are as soft as silk to babydoll-style slips that are eye-catching, but still functional when you need to feed your little one. Plus, you can find them all on Amazon for less than $40.
Aside from their affordability, these nursing lingerie and pajama options all have another important thing in common: They're practical for breastfeeding. From button-down nightshirts to tops with built-in breastfeeding flaps paired with cute shorts and nightgowns ultra-stretchy necklines, there's a variety of nursing PJ styles to choose from. Several options are even designed to be worn during pregnancy, birth, and beyond, so you can get the most bang for your buck. Whether you're shopping for style or looking for comfort, you can find something here to fit your nursing needs.
We may receive a portion of sales if you purchase a product through a link in this article.
In the throes of sleepless nights, you may not care exactly what goes on your body — and honestly, your baby doesn't care, either. But nursing lingerie that's as convenient to breastfeed in as it is comfortable to wear can help you feel just a tiny bit of normalcy in the middle of the postpartum experience.