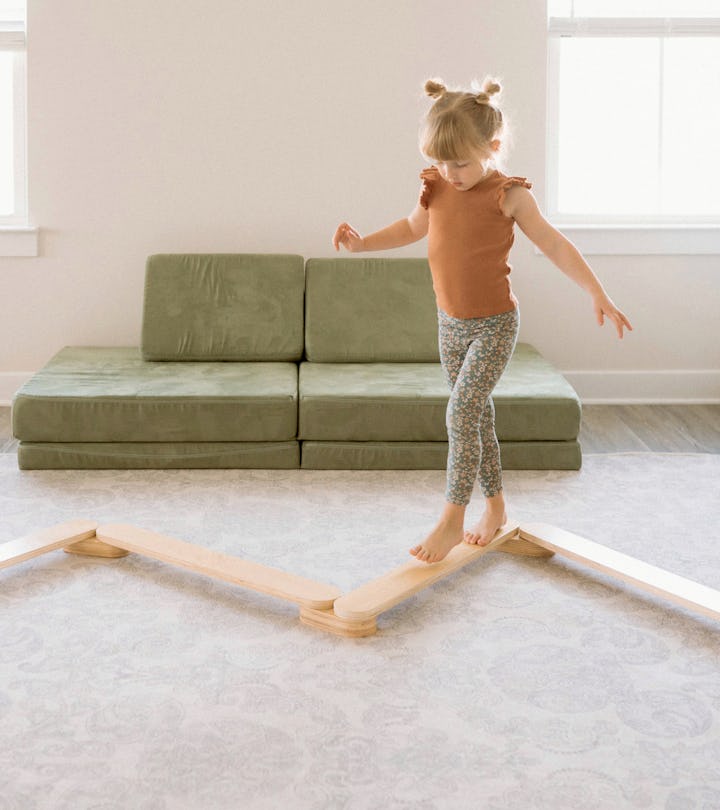 These Clever Wooden Climbing Toys Are So Stylish They Blend Seamlessly Into Your Home
We may receive a portion of sales if you purchase a product through a link in this article.
As a parent to three children under the age of 7, I've learned that the age-old colloquialism "to see the world through a child's eyes" is not just a matter of speaking. When I look at a couch, I see a piece of furniture that I might get to lounge on with a glass of wine at the end of the day. When my 2-year-old looks at that same couch, he sees a mountain that must be summited. When my 5-year-old sees that couch, the back is a balance beam that must be walked. The 7-year-old? Yeah, she's launching herself off it because all that energy has to go somewhere. Of course, with these different viewpoints comes slightly different risk levels. That's why I was thrilled to hear about Piccalio's Climber Pikler Triangle, an aesthetically pleasing climbing toy that not only promises to get all that climbing out in a safe way, but to also blend in seamlessly with existing home decor. (And spoiler alert: Piccalio has other wooden toys that are about to level up your play space too.)
What Sets The Pikler Triangle Set Apart?
The Pros:
While there is certainly no shortage of kids' climbing toys on the market, they tend to fall into two categories: First, the cheap, plastic kind that looks pretty cringe-y and gets all staticky when kids play on it. Then you have the high-end climbing toys that are gorgeous, Montessori-inspired, and totally Pinterest-y, but along with their massive price tags, they also have a massive footprint. Unless you're living in a manse, how do you have room for them? That's why Piccalio's Pikler triangle set is the answer to so many parents' prayers: It's sleek, safe, and relatively small. It measures 27.5 x 36.5 x 30.5 inches (W x D x H) — and it folds up to just 6 inches, so you can slide that baby into a closet or under a bed without breaking a sweat.
The set features a triangle to climb plus a reversible rock-climbing ladder that you can flip into a slide. Your kid can scale it, slide down it, crawl under it, and even use it as a fort — all the while working on gross motor skills. It's made of quality pine wood that promises to last through years of use (maybe even generations).
The Cons:
The big con here is that it's pricey. If you have more than one kid, and you know they'll both use this for years, does it amortize out to be worth the upfront cost? IMHO, yes.
There's also some assembly required, which depending on how well you know your way around a tool set, may or may not be an issue. It's also designed for indoor-use only, so it won't work overtime as a climber for warm-weather fun out in the yard.
The Specs:
Recommended Age: 6 months to 6 years
Max Weight Limit: 132 pounds
Dimensions: 27.5 x 36.5 x 30.5 inches (W x D x H)
Made From: Birch plywood and pine
Care: Wipes clean using a damp cloth
The Reviews:
"Easy to assemble and sturdy. So far it has proven to be a great entertainment and skill learning set. It was a big hit with a one year old who loves to climb and explore. Great for developing motor skills and strength." - John V.
"We bought this as a gift for a one-year-old who loves to climb. It's the perfect size and wonderful quality. It was shipped the morning I purchased it! His older brother is enjoying it too and I know he will enjoy it for years. Thank you!" - Irene
"Absolutely gorgeous and easy to put together! Love it!! Feels very solid." - Kelly
More Products From Piccalio:
Sometimes it's the simplest toys that are the most fun; kids just seem to get that their imagination can take the lead with a toy like Piccalio's Surfer Balance Board. Sure, it's a balance board, but it's also a slide, a boat, a bridge, a fort, a seat, and so much more. This board also holds a surprising amount of weight — up to 200 pounds — so it's sturdy enough for a few kiddos (or, ahem, maybe even a parent). This board also strengthens developmental milestones such as balance, gross motor skills, and creativity with its open-ended, imaginative potential.
It's hard to find a con with this balance board. Like the other toys in Piccalio's collection, this one shouldn't be exposed to wet conditions and is made for indoor use only. That's not exactly a downside, though, more of an FYI.
The Specs
Recommended Age: 12 months to 6 years
Max Weight Limit: 200 pounds
Dimensions: 12 x 32 x 7.5 inches (W x L x H)
Made From: Beech hardwood and finished with non-toxic varnish
Care: Wipes clean using a damp cloth
The Reviews
"Purchased this for our 1 year old grandson. He LOVES playing on it, under it and over it. Hasn't even discovered rocking it yet. Very impressed with the versatility and quality. As a retired pediatric occupational therapist, I'm so happy with this purchase!" — Mary B.
"After a pretty epic Xmas with toys they absolutely loved, my 5 year old proclaimed to me that this was in fact his favorite and something he planned to have until he's a grown up. They're super durable and there seems to be a million different use-cases for them with creative kid's minds." — Sarah
"My 3 year old niece was very excited to receive as a Christmas gift. Went over well with parents as well, received several comments on the great quality of the item. Beautiful color!" — Colleen
You know that 5-year-old I mentioned who likes to walk the couch balance beam? This seems like a much safer bet. Low to the ground and endlessly configurable, this Montessori-inspired low balance beam has four beams and five connectors that can be arranged into a multitude of shapes. The beam is meant to inspire kids to engage in full-body movement and stretching, and it's especially great for children who recently learned to walk because it's built so low. It's also intended to help with balance, motor skill development, and creativity — hence the Montessori influence. Plus, the beam also happens to double as a pretty cool highway for toy cars.
It's noteworthy that a few reviewers mentioned that the only flaw they noticed was that the beam, being fairly lightweight, slid around somewhat. It might be a good idea to purchase grip pads to put on the bottom to ensure the beams don't slide around too much.
Recommended Age: 12 months to 8 years
Max Weight Limit: 100 pounds
Dimensions: Individual beams are 28 x 3.5 (L x W) each; total length of all four beams is 9 feet, 4 inches
Made From: Beech hardwood and finished with non-toxic varnish
Care: Wipes clean using a damp cloth
The Reviews
"Daughter loves it and had already found so many ways to play with it, on it, sit her bears on it etc. we live in a city apartment with limited space and this is very convenient to store as well." — Daniella P.
"Very well made, easy to put together and a lot of fun! It came pre drilled and everything I need to put it together. It even had extra hardware just in case. Because it is so lightweight, I would suggest putting some kind of rubber grips on the bottom." — Melissa M.
"So much fun. My daughter absolutely loves this balance beam. We bought it with the floor circles and it is endless fun." — Becky
This helper tower seems destined to become an indispensable part of kitchen life. Young ones are usually eager to help out in the kitchen, and this tower is a safe way for them to do just that. Whether they're helping to prepare an afternoon snack or doing a science experiment, this helper tower also converts into a table where your toddler can sit and eat. Versatile in where it can live, the tower comes in equally handy for activity in laundry rooms or bathrooms.
Something that sets this learning tower apart from Piccalio's other pieces are the four color choices it's available in — a nice feature for choosing the color that best matches your home.
Learning towers are recommended by pediatricians to help kids hone their independence and satisfy their natural curiosity. While it may be costlier than its plastic counterpart, Piccalio's helper tower is priced comparably to other wood towers on the market — and it's built to last.
The Specs:
Recommended Age: 12 months to 6 years
Max Weight Limit: 175 pounds
Dimensions: Tower: 16 x 16 x 36 inches (W x L x H); Table: 16 x 36 x 17 inches (W x L x H)
The Reviews
"My daughter (and I) LOVE this tower!! It arrived quickly and was easy to assemble. She happily stands on it while I make dinner and clean up, and loves to help and watch." — Casey S.
"My son just turned 1 and loves being able to see and participate in the daily activities happening at the kitchen counter. He is still getting the hang of climbing in and out unassisted. I wish the platform was adjustable but I know he will grow into it as he gets taller in the coming months/year." — Kylie K.
"My daughter beams with joy now in the kitchen as she is involved and can see what is happening on the counters. We definitely use it more as a kitchen tower but the flexibility to change to table and bench is perfect for our small space." — Margret M.
This article was originally published on