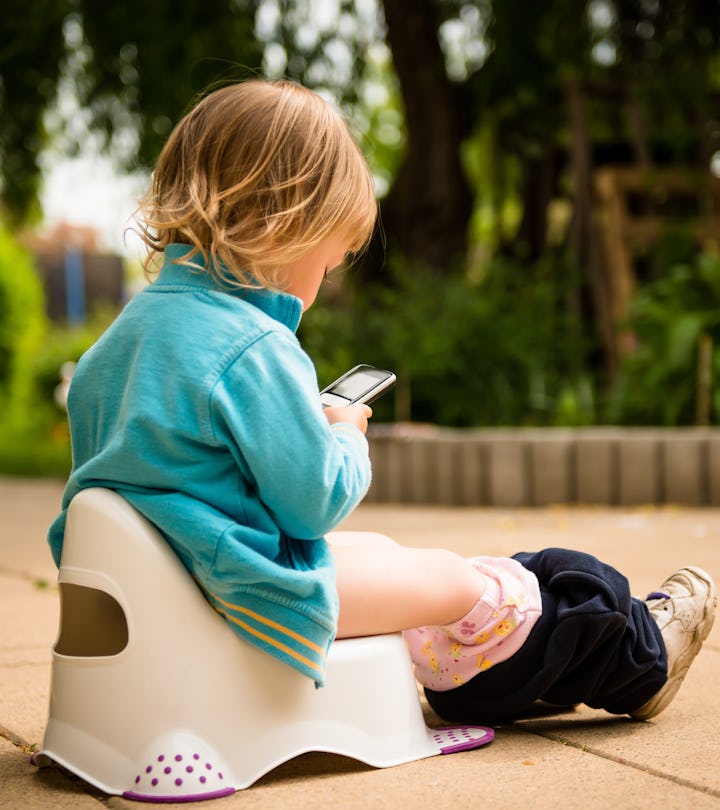 Martin Novak, Getty images
9 Cute Potty Training Charts To Help Encourage (Read: Bribe) Your Child
Potty training requires a few key elements: time, patience, and plenty of prizes. Ok, make that "incentives." Come to find out, a potty training chart, where kids can see a visual representation of their progress, really can make all the difference when it comes to achieving continence success. For some children, going pee in the potty five times in a week might be marked on a potty training chart to indicate they've earned a toy. Or, for every time they poop in the potty they might get to put a star sticker on a potty training chart. No matter what reward you use, a chart can help everyone keep track of a child's potty training progress and help them reach the ultimate goal, being fully diaper-free.
Do potty training charts work?
Speaking from experience, yes, potty training charts do work. Think of a potty training chart as a means of motivation. They give children a sense of self-awareness and agency allowing them to make a choice to use the potty that is then documented and available for everyone to see, which in turn boosts their belief in themselves that they can ditch diapers for good.
They're also super helpful for the caregiver navigating a little person through potty training. As a parent, you can map your child's progress and use the chart as a way to encourage them to keep going. It can be something to take pride in each day. And the rewards do not have to be big or expensive. A simple M&M earned after using the toilet a certain number of times can have an enormous impact and no one will get confused on whether your child has earned it or not. All you two have to do is review the potty training chart for proof that they've made a successful deposit.
How potty training charts work
A potty training chart is like any chart, it's a way of tracking information — in this case, successful pees and poos in the potty — but it need not be limited to just that. Want to reinforce the importance of hand washing? Add it to the chart. Want to give your kid a pat on the back for listening to their body and making it to the potty in time? That can be a line item on the chart too.
Each time your child completes an action, indicate it on the chart (stickers, stamps, or simple checkmarks will do). If you wish, you can offer a reward if your child accrues a certain amount of positive marks.
What to consider before buying a potty training chart
The success of a potty training chart hinges on a few things.
First, your child needs to easily comprehend the chart, so don't go for products that are too confusing or complex.
Next, it needs to clearly spell out goals. Pick a chart that makes mastering using the toilet a series of small achievable goals.
And finally, pick a chart that speaks to your child. They will probably respond better to vivid colors, illustrations, and fun characters more than a boring spreadsheet. Make the experience fun by purchasing a fun potty training chart.
Types of potty training charts
Between Amazon, Etsy, and everything in between, you can find all types of potty training charts you can purchase or print from home (for free). There are ones with blank fields for you to fill out yourself, and some even come with built-in rewards, from crowns to small toys. Many potty training charts use stickers, but if you're interested in a more sustainable option, consider potty training charts that use magnets, a great choice for big families to reuse again and again.
We at Romper only include products that have been independently selected by our editors. We may receive a portion of sales if you purchase a product through a link in this article.
Potty training doesn't have to be a crappy experience. You can make it fun for your child by using a motivational potty training chart to help them earn stickers, magnets, or an ultimate reward for a job well done.
This article was originally published on