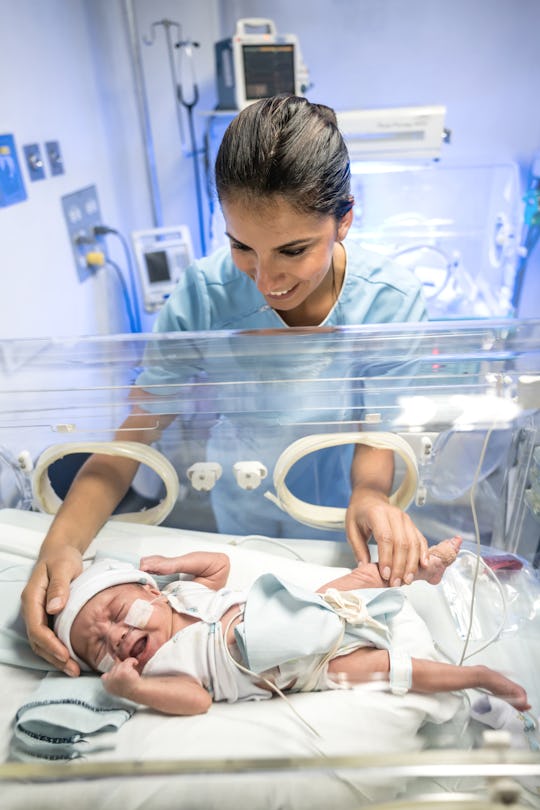 andresr/E+/Getty Images
These Prematurity Awareness Month Instagram Captions Will Bring Hope To Your Feed
Preemie babies (and their parents) are beyond strong, and these quotes remind the world of that.
Parents the world over deal with the realities of premature births all the time, but sadly this issue is not always well understood by those who haven't experienced it firsthand. These Prematurity Awareness Month Instagram captions for November help spread awareness about and solidarity for the babies (and parents) who go through this ordeal. After all, increasing others' awareness of premature births will only help those families who have to brave these trying circumstances.
Recognized as Prematurity Awareness Month, November is a time to learn more about babies who are born before full term and the struggles they often face. There's also World Prematurity Day on Nov. 17 to bring even greater focus to the cause. Anyone interested can learn a whole wealth of information at the March of Dimes Prematurity Awareness site, which also suggests ways to get more involved with the cause as well.
Why is an early delivery so serious? When a baby is delivered before 37 weeks of pregnancy have passed, then it is considered a premature birth, as explained in the Mayo Clinic. (Remember, a typical pregnancy lasts for about 40 weeks.) Early births are still a serious issue in the United States. In fact, the rate of preterm births in the US is rising, according to the March of Dimes, likely fueled by a gap in the healthcare system. This is concerning because babies born preterm are at risk for health issues such as breathing problems or developmental delay, noted the Centers for Disease Control and Prevention. In general, premature labor and delivery makes everything 1,000x harder as a parent, as Romper writer Megan Zander candidly explained. These parents deserve all the support, so here are some meaningful Insta captions to share with your followers for Prematurity Awareness Month.