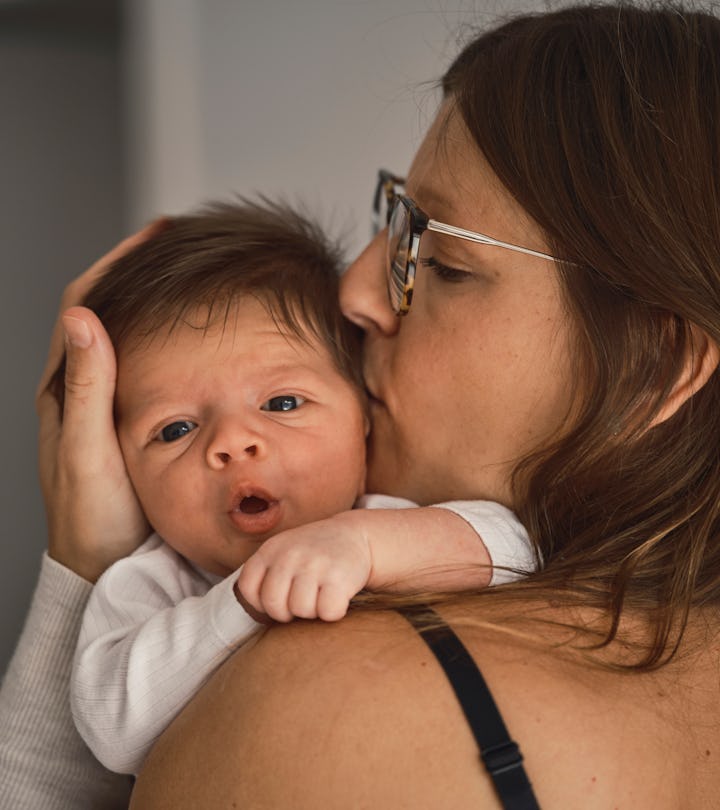 Roc Canals/Moment/Getty Images
7 Moms Explain What Having A Baby In Your 40s Is Actually Like
The good, the bad, and everything in between.
If you're someone who wants children, it's interesting to think about what that experience might look like at different stages in your life. On average, most people have babies in their late 20s and early 30s, but it's also true that more people are having babies later in life than ever before. There are so many different factors to consider when it comes to the timing of having a baby. And though people being pregnant in their 40s is less likely than in their 20s or 30s, many people decide that's the right time for them. As with getting pregnant at any age, there are definitely pros and cons of having a baby in your 40s that are worth taking note of.
According to the National Center for Health Statistics, the fertility rate of U.S. mothers ages 40-44 in 2019 was about 13%, which is a 132% change from rates in 1990. This jump — also shown in mothers ages 35-39 — indicates that older women are having babies more often than in previous decades. As more and more parents decide to wait until their 40s to start their families ,it's helpful to hear some perspectives on what that particular experience is like.
As an "older" pregnant person and parent. you have the added benefit of knowing more about yourself and being able to have a couple of decades of adulthood under your proverbial belt before being responsible for raising other humans. Sure, sometimes it feels odd to be the oldest parent in the pick-up line at school and, yes, your energy reserve is lacking the older you get. But deciding if and when to have a child is a pretty monumental decision, and what works for one person or family won't always work for another.
With that in mind, here's what having a baby in your 40s was like for seven moms who have been there and done that.
When it comes to having a baby, there is no one specific timeline that fits everyone. Despite the fertility rates being generally lower, many parents actually do have children in their 40s. And if you have any questions about having a baby in your 40s and whether that is possible or right for you, consult your medical provider.
This article was originally published on