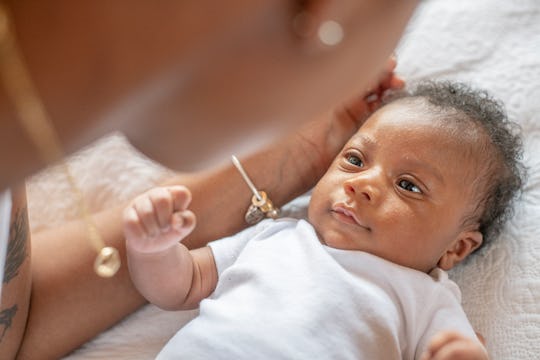 FatCamera/E+/Getty Images
36 Instagram Captions Perfect For Those Sweet Breastfeeding Moments
If you're a new parent who's opting to nurse their baby (and you have the support you need to do it successfully), you might want to be photographed during a nursing session to honor the special bond you have with your little one — and of course you'll want to post the pic on your social media feeds. That means you'll need to come up with a sweet breastfeeding caption for Instagram to show just how you feel about the moment.
Let's be clear: We know that "fed is best," and whatever feeding option works for a parent is just perfect. But when it comes to showing our babies eating, there's still a lingering stigma about public breastfeeding that bottle-feeding parents don't have to deal with. Sharing photos on Instagram and other apps can go a long way toward acceptance. That's why celebs including Halsey, Emily Ratajkowski, Kelly Rowland, and Ashley Graham have recently shared breastfeeding photos on their Instagram accounts, along with breastfeeding Instagram captions that express their thoughts on the subject.
For your own shareable breastfeeding pic, you can choose from a number of nursing captions for Instagram that sum up the sweet moment between you and your "drinking buddy." Try one of these word for word, use them as inspo, or come up with one of your own. Regardless, you'll be glad to have a memento to look back on when your child has moved on to solid food.
This article was originally published on