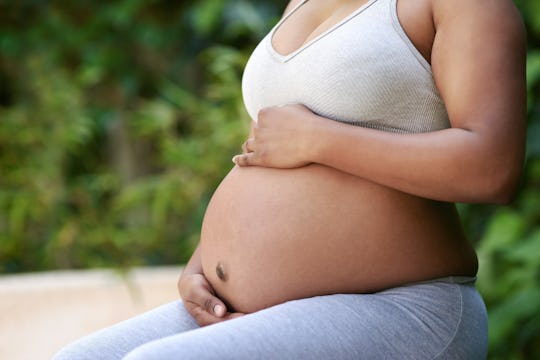 PeopleImages/E+/Getty Images
6 Signs Your Baby Is Engaged & Arriving Any Minute
You've been pregnant for more than nine months and, chances are, you're more than ready to get this show on the road. (By "show," I mean your baby and the "road" is your birth canal, obviously). As your pregnancy moves along, you'll hear more talk about the signs baby has engaged and, since you're almost there, you're probably wondering what exactly that means.
Here's how doctors explain what it means when your baby is engaged. "Engaged or dropped means that the baby has entered into the pelvis in order to start the process of getting ready for labor," Sarah Crimmins, DO, OB-GYN with the University of Maryland Medical Center in Baltimore, MD and an Assistant Professor of Obstetrics, Gynecology and Reproductive Sciences at the University of Maryland School of Medicine, tells Romper. Specifically, "the dropping phenomenon, or engagement, refers to the leading part of the baby (usually the head) descending from the maternal lower abdomen into the pelvis," Monica A. Buescher, MD., Chief of Department of OB-GYN, at the University of Maryland St. Joseph Medical Center, tells Romper.
Not every pregnancy results in a dropping baby, however. Dr. Buescher also explains that babies who are traverse (sideways) cannot drop, while babies in the breech (bottom-first) position are able to drop, which makes turning them more difficult. Your doctor or midwife may help you try to turn a breech baby before they start showing signs the baby is engaged, and some people may try exercises such as yoga poses to turn a breech baby. Lastly, subsequent births may not show the same signs a baby is engaged. "Mothers having their 2nd baby (and additional babies) often do not drop until labor contractions push the baby down for good, because the head is not a tight fit (thanks to the work of the first baby stretching the maternal pelvis)," says Dr. Buescher.
With that in mind, here are some general symptoms of an engaged baby, as shared by doctors.
Experts:
Sarah Crimmins, DO, OB-GYN with the University of Maryland Medical Center in Baltimore, MD and an Assistant Professor of Obstetrics, Gynecology and Reproductive Sciences at the University of Maryland School of Medicine
Monica A. Buescher, MD., Chief of Department of OB-GYN, at the University of Maryland St. Joseph Medical Center
This article was originally published on