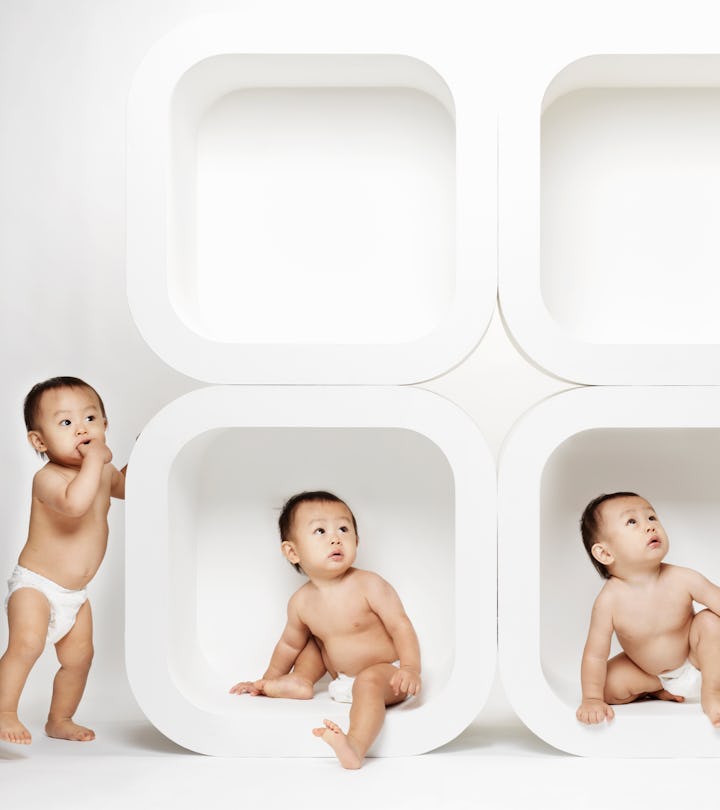 Michael H/Stone/Getty Images
These Triplet Girl Names Are Three Times As Sweet
Naming one child is hard enough, but when you find out you're having triplets (congratulations and godspeed) it can be almost impossible to decide on three names you like. Turning to a list like this one of triplet girls names can provide some inspiration when you undoubtedly get stuck figuring out if you should stick to names that start with the same letter, ones with the same ending sound, or three names that all have the same meaning.
Even after buying three of everything and finding a stroller that will still fit through your front door, deciding on triplet names can feel like the most daunting baby-prep task. You can always donate a baby sling that you never end up using, but a name is pretty permanent. The name game can get even more complicated when you have to agree with a partner on the moniker that will be with your trips forever.
Read on for 32 trios of triplet girls names to consider so you don't end up with Kourtney, Khloe, and Kim (unless that's your jam). And if you and your partner need more inspo, you could try the BabyName app, which is kind of like Tinder... but for baby names. The app shuffles through a huge amount of names from around the world which you can then swipe right or left on. If you each individually swipe right on the same name, you'll get notified that you both like it, which is a lot more fun than suggesting a name and watching your partner scrunch up their nose at it.
Picking one name is daunting enough, but choosing three triplet names can seem like an impossible task. But whether you prefer traditional names, names from other cultures, or less common names, there's a trio of triplet girls names for you.
This article was originally published on