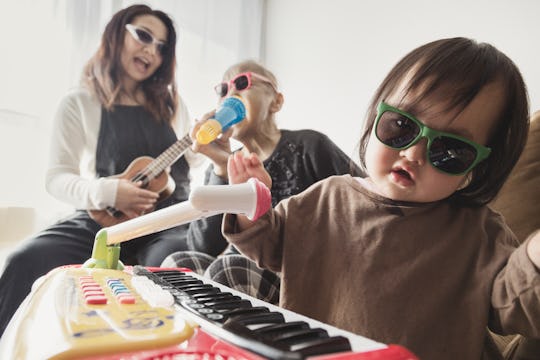 Kohei Hara/DigitalVision/Getty Images
47 Baby Names Inspired By Songs
Imagine always having your very own theme song
When we found out we were expecting a son, I told my husband I wanted to name him "Cash." His response was, "No way, that's the most hipster thing I've ever heard." So we compromised and named our son Jackson, mainly because we both loved the name and the diminutive Jack. And partly because that was the name of one of our favorite Johnny Cash songs (music is a huge part of my family's lives). If you, too, always carry a song in your heart, there are plenty of baby names inspired by songs and can carry extra meaning when naming your child.
Our son's room is decorated in a "rock and roll" theme with guitars and song lyrics in prints all over the place. And quite frankly, it's one of my most favorite rooms in our whole house. I always knew I wanted our kid's name to have something to do with music or literature, whether it came from a song name, a character's name, a musician's name, or part of a song lyric.
Every time I hear the song "Jackson," on one of my Johnny Cash albums, I always sing it to him and it makes him smile. Maybe one of these song-inspired names will have you singing to your little one, too.
No matter which name you choose, naming your child after a song is one of the most rock-and-roll moves you can make as a parent. Hopefully at least one of these names that have been mentioned in popular songs will be music to your ears.
This article was originally published on