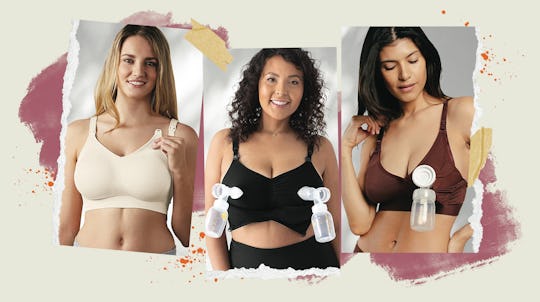 Romper/Amazon
The 7 Best Bras For The Willow & Elvie Pumps
We only recommend products we love and that we think you will, too. We may receive a portion of sales from products purchased from this article, which was written by our Commerce team.
Both the Willow and the Elvie are wearable, self-contained breast pumps that make pumping mobile and hands-free, but for them to work efficiently, the right bra is essential. The best bras for the Willow and Elvie pumps provide full coverage and have stretchy, easy-to-open nursing flaps but don't include padding or an underwire which might make the bra feel tight and uncomfortable. As you shop, consider the material that'll feel best for you and if you'd like bonus features such as bra extenders or if it also works for traditional pumping.
Do The Elvie & Willow Need A Special Bra?
According to Willow and Elvie, most full-coverage nursing bras are compatible with their pumps. Full coverage of the breast is important as the bra completely covering the pump ensures a tight fit and good suction, and reduces any space between the pump and the breast. This also gives you a hands-free pumping experience with mobility and flexibility.
You'll also want to look for easy-to-access nursing flaps that you can open, attach the Willow or Elvie, and then secure in place. The clasps for nursing flaps are extra convenient when using the Elvie's bra adjusters to create more space. And, if you plan on using a traditional, electric breast pump in addition to the Willow or Elvie, some nursing bras also include the ability to hold the flange in place, so keep an eye out for that.
As for material, most nursing bras are made of nylon or modal (a soft fabric made from trees) for comfort, support, and breathability, and they're often mixed with spandex for stretch. Keep in mind that the Willow and Elvie pumps both need enough room in the bra, so make sure your bra has enough give, doesn't have any padding, and is not too tight, to accommodate.
Also consider that the Willow is slightly heavier than the Elvie, and its extra bulk may take up more space in your bra. And keep in mind that bras that are too tight or contain an underwire can lead to blocked milk ducts or mastitis, so be sure to measure to ensure the best fit.
No matter which wearable breast pump you prefer, check out the best bras for the Willow and Elvie pumps on Amazon that will make you feel comfortable and secure.