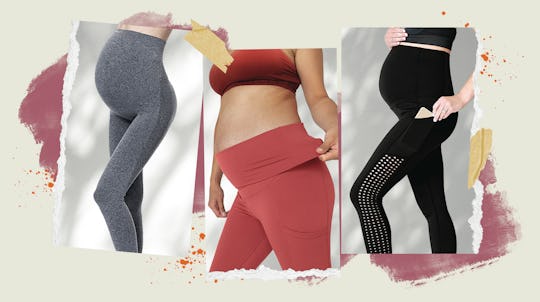 Romper/Amazon
The 7 Best Maternity Compression Leggings
We only recommend products we love and that we think you will, too. We may receive a portion of sales from products purchased from this article, which was written by our Commerce team.
Wearing compression legwear during pregnancy can help soothe the feeling of achy, heavy legs, improve circulation, and reduce the discomfort of swelling and varicose veins. The best maternity compression leggings offer gentle pressure on the legs while remaining comfortable, and they feature stretchy panels for your growing belly. Plus, there are styles suited to lounging, going out, or exercising, so you can choose the pair that's most comfortable for you and best suits your needs.
While similar to maternity compression socks, maternity leggings extend above the knees to provide light compression all over the legs. Like most compression clothing, these leggings are often made with nylon and spandex that's lightweight, durable, and stretchy. Some compression leggings are blended with moisture-wicking polyester or breathable cotton for added comfort. Maternity compression leggings are great for everyday wear throughout pregnancy — but if you want more support for your abdominal muscles during the fourth trimester, look for leggings specially designed to be worn postpartum.
In addition to offering mild to moderate compression, each pair of leggings below has a stretchy over-the-belly panel for a comfortable fit, and some options have extra-wide waistband panels which can be rolled up or folded over to give you more flexibility as your belly grows. Some styles are also seamless so they feel extra smooth against your skin.
A couple of other things to keep in mind: If you're looking for something cozy to wear in cold weather, you might like fleece-lined leggings that are extra warm. You can also opt for leggings with pockets where you can store a few essentials. And while maternity compression leggings are safe to wear during pregnancy, tight-fitting clothing can cause acid reflux, heartburn, and other discomforts, so your leggings should feel snug but not overly tight.
However you plan to wear them, the best maternity compression leggings will make the time you spend on your feet (or your couch) a more comfortable experience. Find your perfect pair below.