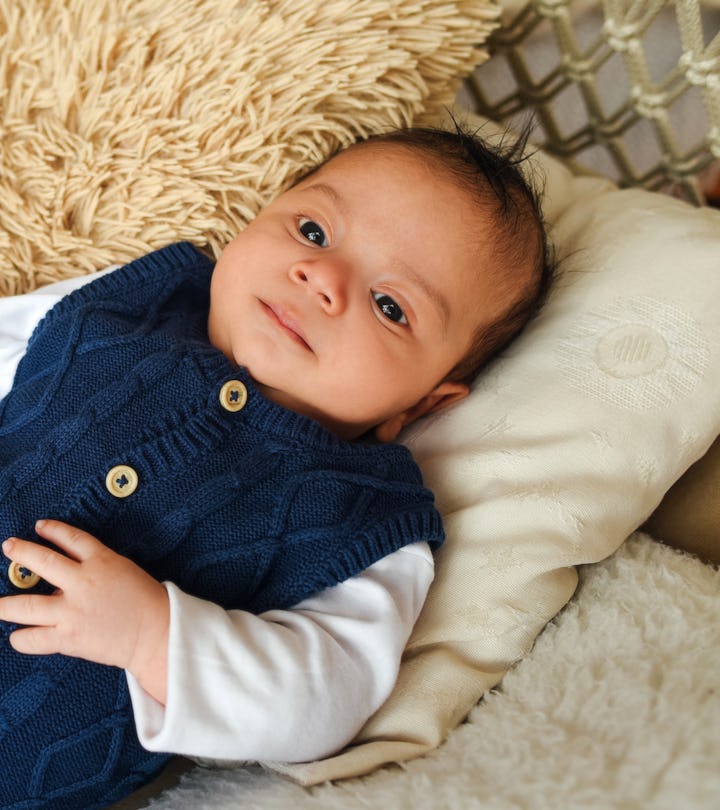 Maryna Terletska/Moment/Getty Images
30 Boy Names That Start With A, From Aaron To Azad
Start strong with the first letter of the alphabet.
I'm always a sucker for playing the name game, but my susceptibility to it skyrockets when I'm actually pregnant. As someone who has always wanted a big family, that has turned out to be pretty often. This year when I found out I was growing our fourth child, I knew I had better start looking at boy names. Sure enough, my gut was right: Our fourth boy will join the chaos soon. And since I have spent many collective hours going through baby name lists, I humbly offer you 30 of my favorite boy names that start with A.
Why start with the letter A? Whether you have a name preference in mind (one that relates to your family perhaps) or you're unsure of where to start, beginning with the first letter in the alphabet can help. From Aaron to Azad, there's an A name for everyone, and this list could be the jumping off point you need to choose a sweet moniker for your little guy.
My personal naming preferences lean a bit to the eccentric, so you'll find a lot of unique and perhaps unfamiliar names on this list. But I also really dig the choices of my friends who have more traditional taste; especially when they have multiple children whose names are total style matches to one another, like my friend with an Emma and a Henry. Swoon! So while I may prefer more rarely heard names for my own shorties, I was intentional about including a wide variety here to be sure there's a little something for everybody. Let the boy name party commence.
There's no shortage of inspiration for boy names that start with A. Whether you want something classic or something a little bit more unique, there are endless options to choose from for your incoming little one.
This article was originally published on