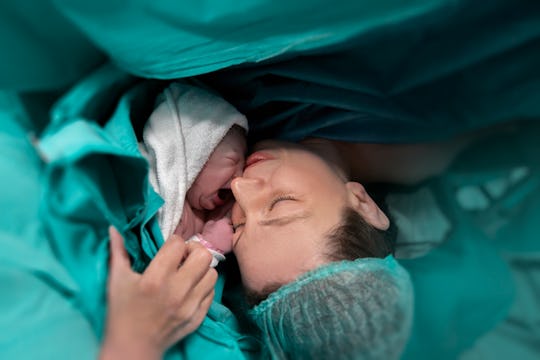 sefa ozel/E+/Getty Images
11 C-Section Birth Videos That'll Show You The Ins & Outs
Take a peek at how other parents handled their Cesareans.
Maybe you just learned you'll be having a cesarean, or maybe you're wondering how C-sections go down, just in case you find yourself having one unexpectedly. If you've never had a C-section yourself, or known someone who gave birth this way, it can be hard to imagine what it'll be like, how long it will take, and even what the heck you should pack in your hospital bag to recover. That's where C-section birth videos come in. Seeing how other parents planned for their scheduled surgery — and handled the emotions of an emergency procedure — can help you feel more informed heading into your own birth.
If you're feeling concerned about your C-section, remember that you can absolutely make a birth plan for it, just like you would for a vaginal birth. You can request that your choice of music be playing in the operating room, to start breastfeeding while you're still in the OR, or to have a clear drape used during the birth so you can see your baby being born. So, if you're looking to C-section birth videos to feel a little bit more control, just remember that you still have options and the authority to ask for what's important to you. And if you just want to know what the heck happens in births like these, well, watch on.
If watching C-section videos (especially the emergency ones) makes you feel anxious, take a break. But if learning more about the process demystifies it a bit and helps you feel better about the possibility, then watch on.