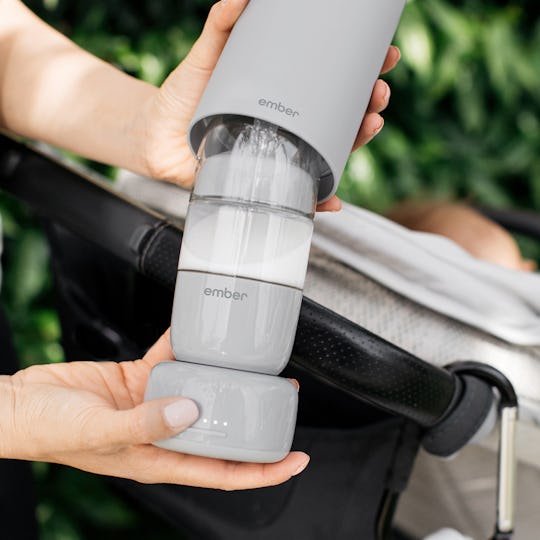 Ember
Exclusive: First Look At The New, Self-Heating Ember Baby Bottle System
We're living in the future, apparently.
We may receive a portion of sales if you purchase a product through a link in this article.
Chances are you've seen the Ember mug in the aisles of your favorite store or advertised in your Instagram feed. Well, the good folks behind the self-heating coffee cup are getting into the baby game. Their Ember Baby Bottle System, which launches today, is self-heating, high-tech, and still low-profile enough to slide right into your diaper bag. It's designed to provide your baby with perfectly warmed milk or formula in less time than fussing with traditional warmers, and it can do so on the go.
The Ember Baby Bottle System warms milk or formula with the press of a button in five minutes or less. While most bottle warmers require water, the Ember doesn't, making it the perfect mess-free option to pack in your diaper bag or keep on your nightstand for night feeds (no more stumbling to the kitchen in the dark).
For on-the-go use, simply place your bottle of milk or formula water, cold, into the insulated cover, which will keep it cool until baby's hungry. Then, tap the button to heat. The system's design ensures the bottle heats the liquid evenly, so there won't be hot spots while your baby drinks, and all those important nutrients inside will be preserved.
The Ember Baby Bottle System retails for $399.95, and comes with:
Two 6 oz. bottles with Level 1 flow nipples
One smart warming puck
One insulating thermal dome
Four additional nipples (two Level 2 flow, and two Level 3 flow)
Two nipple collar adapters for use with Dr. Brown's Wide-Neck nipples and Philips Avent Natural nipples
All of the bottle parts that come into contact with the milk or formula are made from BPA-free, food-safe materials so you have peace of mind that your baby can sip safely. And, it's ergonomically designed to be comfortable for your hands to hold, and for little hands too, when baby is ready to feed themselves (sob).
Ember's app, which is compatible with iOS and Android devices, also has some helpful features. You can heat the bottle remotely using the app and receive a notification when it's ready, and more easily log your baby's feedings. If you're using the Ember bottle system with a newborn, having a thorough record is so helpful when you get to the pediatrician and they ask about baby's eating habits. Let's face it: the sleep deprivation can make it a little hard to remember the nitty gritty details otherwise.
The bottle is meant to be used at home and while traveling.Ember
The Ember app will notify you when a bottle is ready, track feeds, and more.Ember
The Ember baby bottle system, when closed with the included lid.
According to the brand, their move into baby products comes after their founder and CEO, Clay Alexander, experienced the literal juggling act of holding a newborn and prepping a bottle in the middle of the night. "The original idea for the Ember Baby Bottle System stemmed from my own personal experience over 10 years ago," he says. "I vividly remember one night when I was juggling my crying daughter in one hand and attempting to prepare her bottle with my other hand. I felt frantic, trying to calm her while also trying to heat water for the bottle, then waiting an eternity for the milk to warm, only to be uncertain what body-temperature milk was supposed to feel like when testing it on my wrist. I knew there had to be a better solution to this, so I began to draw up ideas which eventually led to the Ember Baby Bottle System."
If the Ember Baby Bottle System sounds like your next must-have baby product, they're now available for purchase at ember.com.