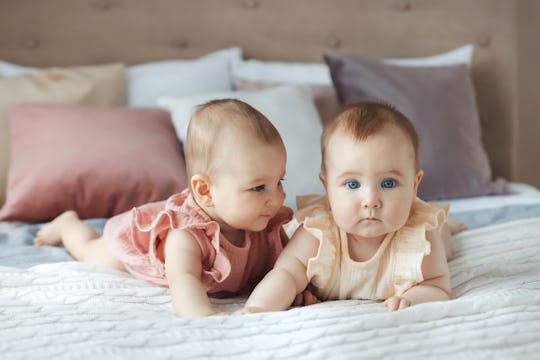 Shutterstock
100 Best Gemini Names For Babies Born In May & June
These are perfect for your little air sign.
There are all kinds of places you can find baby name inspiration, like your ancestry, a favorite character, or simply all of nature outside your window. For little ones born in May and June, there are some fantastic Gemini-inspired baby names for parents to consider. Even if you aren't a big fan of astrology, these Gemini baby names can offer you lots of inspiration and act as a guide to finding the right name for your little Gemini babe.
Babies born between May 21 and June 20 fall under the Gemini, or twin sign, which should make any parent happy because Geminis have some amazing traits. First, they're gentle, affectionate, open-minded, expressive, and curious. These traits drive them to seek out adventure, see the world, and never settle for the boring and mundane. Geminis are also quick-witted, dynamic, and are excellent communicators, which means their life will be full of meaningful relationships because they make such amazing friends.
Parents of Gemini babies quite frankly hit the jackpot, because who wouldn't want these cool traits in their kid? That's why you should celebrate their sign and let it inspire their name. Here are some great Gemini baby name options to choose from.
Enjoy naming your convivial, chatty, happy-go-lucky, occasionally nervous, but always witty Gemini baby.
This article was originally published on