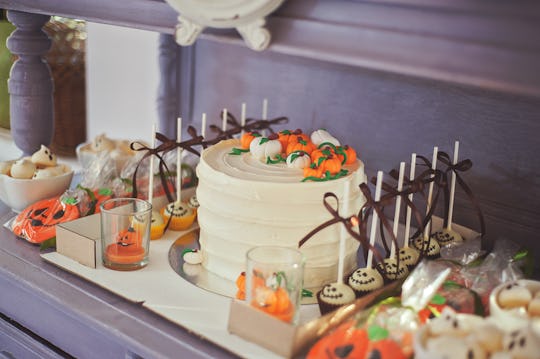 Yulia Shaihudinova/Moment/Getty Images
These Halloween Baby Shower Cakes Will Look So Cute In Photos
Halloween is without a doubt one of the most fun holidays, so it's no wonder that so many parents-to-be want to incorporate it into their showers. Aside from the new parents, the other centerpiece of such an event would definitely be a Halloween-themed baby shower cake that is equal parts spooky and sweet. Plus, with such a broad theme there are so many amazing directions you can go with your cake decor.
Out of all of the holidays, Halloween is my absolute favorite. The colors are fun, the candy is great, and the decor is downright fantastic. Witches, skeletons, vampires, monsters, pumpkins, and all things spooky, what's not to love? When I was pregnant, I never even thought to use this wonderful holiday as a theme for my baby showers, which is a shame because now I can't stop thinking about how I missed out on having an amazing Halloween-themed baby shower cake.
If you're a parent-to-be or are hosting an upcoming baby shower, you can learn from my mistake and really lean into the creepy theme. Deck the house out in cobwebs and spiders, posing skeletons, and Jack-o-lanterns, and definitely splurge on a fun Halloween-themed baby shower cake. Here are a few fantastic cakes to help get you inspired.
If you were feeling a little stuck on inspiration before looking through all of these incredible cakes, now you're probably wondering how in the world to narrow down all of your options. Will you go super spooky, playful, simple, or something in between? Put on your witch's hat and get to planning.