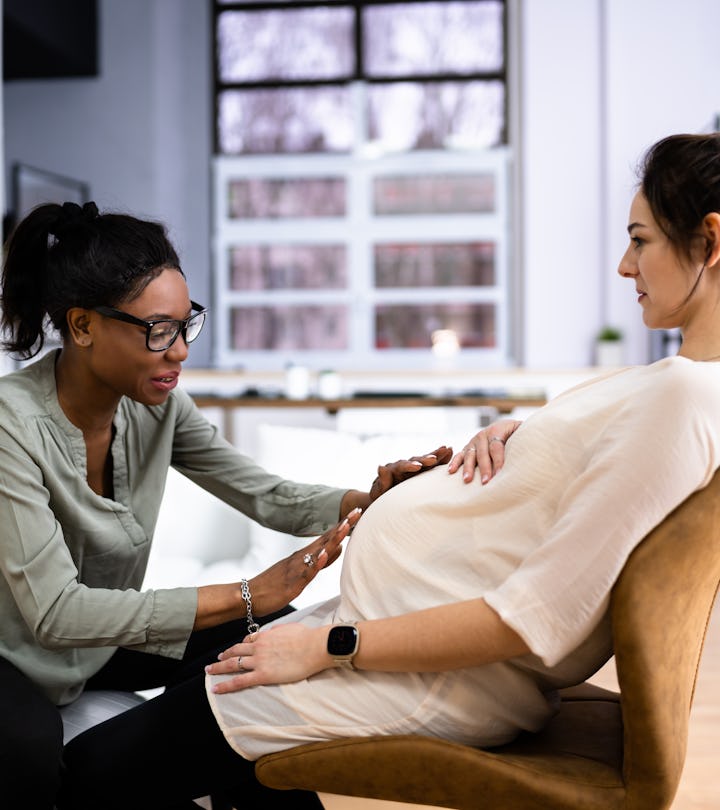 Shutterstock
How To Choose The Right Doula For You
The roadmap to finding "the one."
Doulas are kind of like your personal superhero while you give birth. Unlike doctors and nurses, who are (of course) focused on the health of you and your baby, a doula is totally dedicated to your experience, supporting you through labor and helping advocate for your wants and needs. They want your birth plan to become a reality just as much as you. So, figuring out how to choose a doula (birth and postpartum) can be a little overwhelming. But if you ask the right questions and search the right places, you'll find your perfect match.
How to choose a doula
The best way to find doulas near you is to check with moms in your area, says Brandi Jordan, MSW, IBCLC, a doula, and advisor to Swehl's Motherboard. Ask for recommendations from friends and family, and in local parenting groups.
For a more comprehensive list of doulas in your area, you can also check out online registries from doula training organizations, like DONA International. "DONA is one place that you can find doulas online. There's also a website also called DoulaMatch. What I like about DoulaMatch is that people can be trained in different places. DONA is one training organization out of many. DoulaMatch has lots of doulas from different types of organizations, and so you're getting people who have different types of training from different organizations," Jordan says.
DoulaMatch may be especially helpful for some parents looking for doulas who meet their specific needs. "If you're a Black parent and you really want a Black doula, there are ways to do filters on DoulaMatch, and you can also read reviews about the doulas," says Tiara Caldwell, LPN, IBCLC, a doula and fertility coach in the DC Metro area.
Do doulas take insurance?
Insurance reimbursement for doulas varies by state and insurance provider, so you'll want to find out ahead of time what your insurer requires, says Jordan. Some will want you to work with doulas who have been trained by certain organizations (usually DONA) in order to get reimbursed. Then, your doula will provide you with a superbill to submit to your insurer. There are also doulas who can accept FSA or HSA payments.
If you're choosing a doula based on their ability to work with your insurance, start by getting a list of approved providers from your insurer. "Start your search there," Caldwell says. "You want to contact your insurance company and only contact those people who are on that list. See what doulas take your insurance, and also the steps that a doula may need to do to get in-network."
What questions should you ask when interviewing a doula?
Once you've scheduled a few first meetings with doulas you're interested in, how do you choose the perfect one? Every doula is different, but Caldwell and Jordan recommend asking about both the overall vision of working together, and the logistics.
What is your philosophy about birth and how we will work together?
How many families have you worked with before?
What services do you offer? (For example, if you're hiring a postpartum doula, ask what they do when they come to your house during the day or night.)
Have you ever worked with someone with my birth plan before? (For example, if you want your doula to advocate for you during your VBAC, knowing they've done it for other families is helpful.)
Do you have experience with my religious or cultural preferences around birth, or are you willing to learn?
What week of my pregnancy do we begin working together?
Do we continue our relationship after birth, and what does it look like postpartum?
If you aren't able to make it to my birth, what happens? Do you have a backup doula, or is there a refund policy?
Both Caldwell and Jordan agree that asking about training may be important to some parents, but you may not want to base your doula decision on their certifications alone. Ultimately, Jordan says, the most important part of choosing a doula is finding someone you feel a connection with.
"Whether it's a birth doula or a postpartum doula, it comes down to your personal connection to them. Who makes you feel relaxed, who gives you the feeling you want to have in the birthing room or postpartum when you're at home," says Jordan. "Ask those questions if it's important to you if they have a certain level of experience. But I would also say that your intuition will kick in and you should pay attention to that. The person that makes you feel calm, that you feel connected to is often better than whatever they have on paper."
Experts:
Brandi Jordan, International Board-Certified Lactation Consultant (ICBLC), pediatric sleep consultant, doula, and advisor to Swehl's Motherboard
Tiara Caldwell, LPN, IBCLC, a doula and fertility coach in the DC Metro area