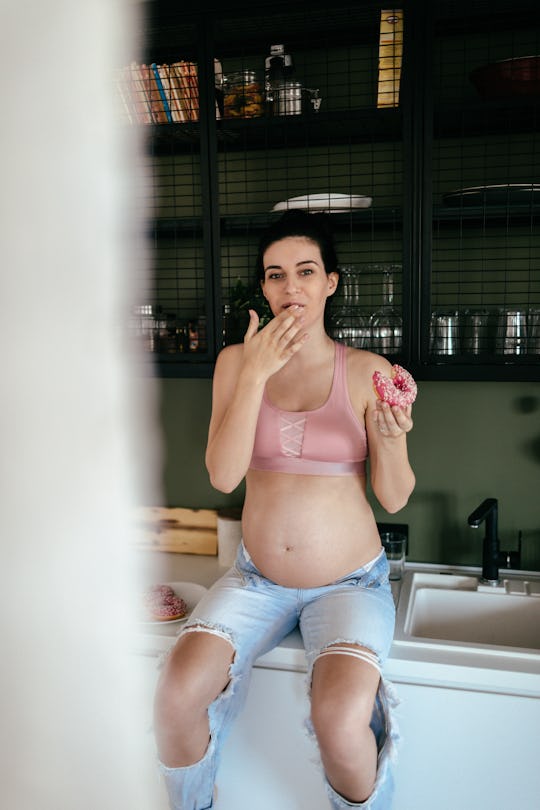 AleksandarNakic / Getty
20 Moms Reveal Their First Pregnancy Craving
Move over, pickles! Fast foods top our list of must-eats when eating for two.
Pregnancy cravings are weird. For some moms-to-be, having cravings is when they realize they're pregnant. For others, obsessively wanting to eat a very specific something is a comforting sign after vomiting every morning for weeks on end. Some cravings are bizarre combinations that would turn the stomach of your non-pregnant self, like that cliché about pickles and peanut butter.
My own first craving was fried chicken. And I was a vegetarian at the time! Things got crazy, y'all. A Chick-fil-A opened near my home and I ate Publix fried chicken or Chick-fil-A at least twice a week at first. When I felt guilty about not eating enough vegetables I switched to a Cobb salad with fried chicken nuggets on top. Later, I couldn't get enough of the Wendy's Frosty.
I asked 20 moms to share the first thing they absolutely had to eat when they were pregnant. These ladies are all of us with their very real pregnancy cravings. A tub of sour cream, anyone, eaten straight with a spoon? Cold butter on cold bread? Overall, my own cravings seem pretty typical. Salty and greasy fast foods, cold sweets, and fruit seem to be the most popular foods to have when you just have to have it.
Enjoy those cravings, mamas! It's time to indulge. What I learned from these stories is that there may be a nutritional reason for whatever you absolutely must eat when you're pregnant, like meaty burgers or vitamin C-rich oranges when you're low in iron. And perhaps your baby will have an affinity for the same foods you craved when they're older and you can share the memories and stories and enjoy the food together. That is, if you're not completely over those foods you ate for 9 months straight, which can happen no matter how delicious those Flamin' Hot Cheetos may be right now.