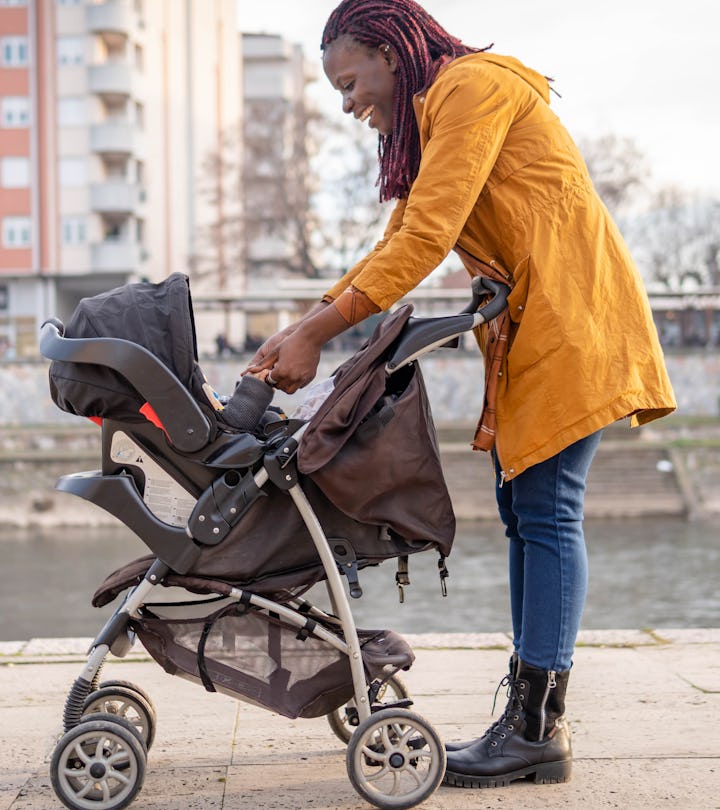 Photosomnia/E+/Getty Images
Pelvic Floor Exercises You Can Do At Home To Stop The Spritz
Simple things, like taking walks, can help.
Anyone who has ever had a newborn knows, there are a lot of bodily fluids involved in the postpartum period. Babies spit up and diapers blow out, not to mention the leaky breasts and changing of pads you're dealing with yourself. If you're also experiencing urine leaks (or any kind of incontinence) after delivering your baby, you're not alone. There are pelvic floor exercises you can try at home to help your body heal, and lots of techniques physical therapists can support you with if kegels alone aren't enough.
Signs of a weak pelvic floor
The most common red flags that your pelvic floor is weak are urinary, stool, or gas incontinence, and needing to pee more urgently or more often, according to the National Association for Continence. For many people, as the pelvic floor heals from pregnancy and birth, these issues go away on their own.
"Many times, small degrees of stress or urge will resolve over time," says Dr. Jill Rabin, OB-GYN and urogynecologist at North Shore University Hospital and Long Island Jewish Medical Center, and author of Mind Over Bladder: A Step-by-Step Guide to Achieving Continence. "Having said that, if you're experiencing the 'gotta go's' after that, or if after six weeks you're leaking when you cough, laugh, or sneeze, it would be prudent to see your obstetrician first and make a treatment plan."
At-home pelvic floor exercises
Let's say you're six weeks postpartum and still dealing with the symptoms of a weak pelvic floor. There are a few different exercises you can try at home to strengthen those muscles. Start by getting in more steps when and where you can.
"One of the greatest things you can do for your pelvic floor is just walking," says Valerie Adams, PT, DPT, women's physical therapist at Duke Health. "The pelvic floor is active all day supporting our organs as we go about our routines, and doing some gentle aerobic exercise is sort of a sneaky way to support your pelvic floor."
Kegels are an important part of any pelvic floor strengthening program, Adams says, and you can add them into other workouts for added benefits. "We can incorporate pelvic floor exercises with body weight exercises, like incorporating a kegel into a bridge movement, or engaging the pelvic floor when lifting up our baby," she says.
Experts agree that kegels are kind of the holy grail of pelvic floor exercises. That said, half of us do them wrong.
How to do kegels the right way
Around 50% of people who try to do kegels actually push out with their pelvic floor muscles instead of pulling in, Rabin says, which won't help them get stronger. To learn the proper motion, she says to stop your stream while using the bathroom — that's a kegel. You shouldn't do this often, as it can lead to bladder infections, but you can try them any other time you're sitting down.
"Seated in a chair, imagine you want to stop urine flow by drawing your pelvic floor upward," says Barbora Vystejnova, MS, PT, DPT, PRPC, women's health physical therapist for Baptist Health Jacksonville. "Feel the squeeze. Hold for five seconds (but don't hold your breath), and then fully relax between each contraction. Do 10 repetitions, three times a day. You can also add 15 reps per day of quick pelvic floor contractions without the hold in between."
"A lot of times people may not know exactly how to do kegels. Pelvic floor contractions are actually really gentle, and if you do kegels properly, no other muscles around them should be able to tell you're doing them," says Valerie Adams, PT, DPT, women's health physical therapist at Duke Health.
Do you need to do pelvic floor exercises after a C-section?
Pregnancy itself strains the pelvic floor, which supports the weight of a growing uterus and baby all those months. That means it's not just people who deliver vaginally that can have incontinence issues postpartum.
"Pelvic floor exercises are still important for individuals who have had a Cesarean. We know from pregnancy alone there is increased demand on the pelvic floor muscles," says Adams.
When not to do kegels
If you have pelvic pain of any kind, or can't seem to empty your bladder fully, it's best to see a physical therapist before trying anything at home. You may accidentally make it worse.
"If the patient is experiencing any sort of pelvic pain and may also be having incontinence, they should not be doing kegels," says Nancy Silva-Mullins, MS, PT, certified pelvic physical therapist and supervisor of the Pelvic Rehabilitation Program at Northwell Health. "When you contract your pelvic floor, you're in essence shortening the muscle, and if you have pelvic pain, most likely your muscles are already short and tight, so you could make your pain worse."
For these patients, Mullins would help them lengthen those muscles to relieve pain before addressing the incontinence. "Somebody with pelvic pain may also have constipation issues because those muscles aren't relaxing. We need to look at you as a whole person and pinpoint what those issues are," she says.
Do you need physical therapy for urinary incontinence?
If your incontinence isn't improving after a few weeks, it may be time to see a physical therapist. They can do biofeedback, Mullins says, which involves performing a kegel while using a tampon-sized sensor. The sensor then shows you on a screen which muscles you're really contracting, and your therapist can help you adjust how you're performing the exercise.
"It makes sense to come in when your efforts at home haven't helped," Adams says. "I think everyone should have a postpartum physical therapy consultation. It's one of the biggest changes to the body people will go through in their lifespan, and there's so little follow up for the birthing parent postpartum. It can be really helpful to get you started on the right track."
These experts agree that there are solutions out there to help your pelvic floor recover, whether you can handle it at home or need some added support from a physical therapist. You don't have to just live with it. "The take-home message is that it's not OK, regardless of age or number of babies you've had, to urinate when you sneeze or lift up the baby," Mullins says. "It's not OK that you have to wear a pad. There are things that can be done about it."
Experts:
Dr. Jill Rabin, OB-GYN and urogynecologist at North Shore University Hospital and Long Island Jewish Medical Center, professor of obstetrics and gynecology at the Donald and Barbara Zucker School of Medicine at Hofstra/Northwell, and author of Mind Over Bladder: A Step-by-Step Guide to Achieving Continence
Valerie Adams, PT, DPT, board-certified clinical specialist in women's health physical therapy at Duke Health
Barbora Vystejnova, MS, PT, DPT, PRPC, women's health physical therapist for Baptist Health Jacksonville
Nancy Silva-Mullins, MS, PT, PRPC, CAPP-certified pelvic physical therapist and supervisor of the Pelvic Rehabilitation Program at Northwell Health